Flashback 3 years: Two longtime West Bend companies come together to create a West Bend landmark building | By Emily Liddicoat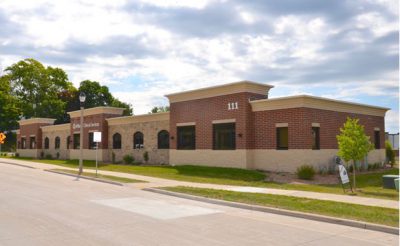 April 4, 2018 – West Bend, WI – Three years ago, American Construction Services, Inc. completed construction of Affiliated Clinical Services, Inc.'s facility, located at 111 E. Washington Street in West Bend. The groundbreaking took place in October 2014 and the facility opened in May 2015.
The structure, designed by American Architectural Group, is a 7,500 square foot, single-story building, with a two-story lobby space. It features 16 offices, one small group room, and one large group room.  The exterior materials are a combination of split-face block, brick, and stone.  The exterior also features arches over several windows and decorative cornices.   The location was chosen in West Bend in order to be more visible in the community and change the stigma on mental illness.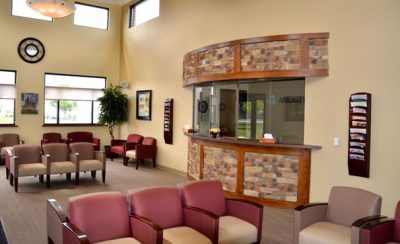 According to Debra Pietsch, Business Manager at Affiliated Clinical Services, Inc., "The construction process was wonderful. Everyone was very knowledgeable and helped us through this very daunting process.  American Construction Services took our ideas and put them into action, getting us into our building on schedule.  We absolutely love our building and have had many clients appreciate it too."
Affiliated will be celebrating 34 years in business in July. The company has grown to a team of 45 employees and serves over 2,400 new clients a year.  Anxiety and depression remain the most common reasons people come to Affiliated, but the approach has evolved to more radically emphasize wellness.  Affiliated continues to feel it is an honor to serve the residents of West Bend and the surrounding areas.
Affiliated is involved in the community to help educate the public and challenge directly the stigma that keeps nearly 50 percent of people from seeking help. Counselors tend to see clients and families for longer periods and emphasize the positive side of feeling good about self-care.  Affiliated has grown to offer many groups and specialties for a wide range of problems; allowing treatment to be truly personalized and comprehensive.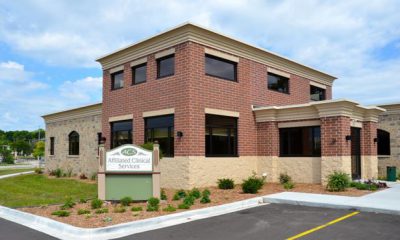 American Companies has been in business in Washington County since 1980. It is a full service Commercial Design Build Construction Firm.  American serves Wisconsin and the upper Midwest.  Projects include commercial, industrial, hospitality, office, retail, and multi-family facilities.
"American Companies is proud to have worked with Affiliated Clinical Services to create a landmark building in West Bend." – Kraig Sadownikow, President of American Companies