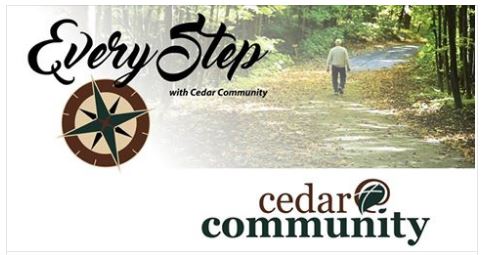 May 16, 2017 – West Bend, WI – Cedar Community is committed to being a leader by helping others navigate the landscape of senior living and senior health care. Every Step with Cedar Community provides valuable information and handouts to help you and your loved ones plan for the future.
The first seminar is Thursday, May 18 and focuses on personal information and the ABCs of senior living. Experts include Norah Koskovich, BSW, CSW, Geriatric Care Manager, Cedar Community at Home and Cathy Majkowski, Cedar Community Sales Manager.
The topic focuses on your personal information and where it is stored. Is it in one area and easily accessible so in the event of a personal emergency someone has access to it? Personal information includes all of your legal documents, medical information, insurance policies and funeral information.
Learn the importance of keeping all of your personal information in one area. The second part of the seminar discusses the dozens of abbreviations used to describe senior living options including IL, AL, CBRF and CCRC. Learn more about these commonly used terms so you can make informed decisions about retirement living.
There are two time options for the seminar including 10 a.m. at Cedar Community's Cedar Ridge Campus, 113 Cedar Ridge Drive and 6 p.m. at Moraine Park Technical College (T-2 Entrance), 2151 N. Main Street. Please RSVP for the seminar, 262.334.1680, ext. 2221 or at [email protected]
Enjoy, explore and embrace your best life!
Live more at Cedar Community, where their natural settings, faith-based mission and high-quality services afford seniors the opportunity to live a more purposeful, fulfilled life among family and friends. From beautiful homes and apartments for active and independent retirees, to assisted living, short-term care and rehabilitation, skilled nursing and memory loss services and home medical equipment, Cedar Community is the only community in Washington County where people age 55 and better have the peace of mind, knowing the services they may need are right there, provided by a team of professionals they know and trust.
###
5595 County Road Z, West Bend, WI 53095
cedarcommunity.org