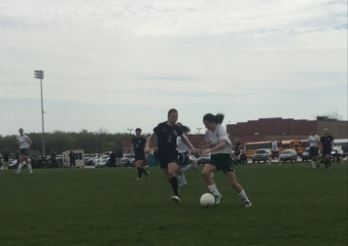 May 13, 2017 – Jackson, WI – Kettle Moraine Lutheran, Sheboygan Falls, West Bend West, and Port Washington competed in a girls' soccer tournament hosted by Kettle on Saturday, May 13.
Teams played multiple games in a short time frame and halves were reduced from 45 minutes to 35 minutes.
Kettle's first game against Port Washington kicked off at 10 a.m.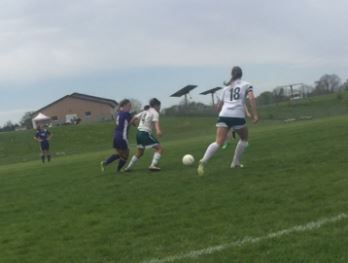 Port Washington scored a quick goal in the second minute of the first half and scored again putting them up 2- 0.
Kettle came out stronger in the second half but fell short and the final score was 2-0 with Port Washington moving to the championship against West Bend West.
Kettle faced Sheboygan Falls at noon. Both teams made great shots, but it was Sheboygan who scored first to grab a 1-0 lead.
At the end of the first half Kettle had a quick breakaway by junior forwards Caitlyn Kaelberer and Kate Aswege.
Aswege scored a far-post goal.
In the middle of the second half, Sheboygan scored another goal and took the game with a final score of 2-1.
Kettle's next game is Tuesday, May 16 against Winneconne.
This game is Kettle's teacher appreciation game, where players invite teachers to be recognized, and their Ataxia fundraiser game.
Photo courtesy Jenna Freeman.