Fond du Lac, WI – Walleye Weekend in Fond du Lac, Wi has June 10 through the 11th left in the event; it is Fond du Lac's largest fishing tournament and festival where families gather to compete or just enjoy the view and activities from live music to family exhibits, and if you're looking for a new fishing boat…..take test rides.
This year, Cedar Lake Sales will be offering free test rides on models from Yar-Craft and Caymas for people that desire more than just viewing a rig at the showroom, but instead want to "feel" what these big water boats offer.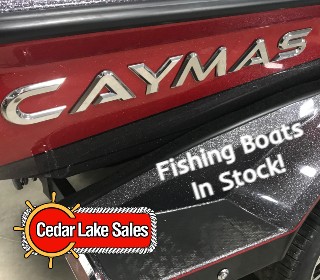 Duane Krueger, a sales rep for Caymas, said that although most people may not realize it, the brand has been around since 2018.
"Caymas is an Earl Benz company," he said. "He's owned brands like Hydro-Sports, Stratos, and Triton, to name a few, before he started Caymas.  We will have our DM20 on hand for demo-rides."
Unveiled in 2023, the models is built for handling rough water but still is agile for a 20-footer.
The demo-rides provide a rare opportunity to "try before you buy" on Lake Winnebago, a huge body of water that can truly put boats to the test, albeit in a safe environment.
Under the tent at Walleye Weekend, Cedar Lake Sales will have a Yar-Craft 219, Caymas DV22, and a Crestliner 1650 Fish Hawk.
Test rides for Caymas and Yar-Craft will take place June 10 and 11.