Oct. 4, 2017 – Washington Co., WI –  Join Cedar Community at Home and Aurora Health Care on Thursday, Nov. 2 from 6 p.m. to 8 p.m. at Cedar Community, Cedar Lake Campus, Cedar Theatre, 5595 County Road Z, West Bend, for a free screening and discussion of the PBS "FRONTLINE" film Being Mortal.
You will be part of a national dialog taking place in our community that asks "Have you and your family had the tough conversations and planned ahead?"
Being Mortal delves into the hopes of patients and families facing terminal illness. The film investigates the practice of caring for the dying and explores the relationships between patients and their doctors. It follows a surgeon, Dr. Atul Gawande, as he shares stories from the people and families he encounters.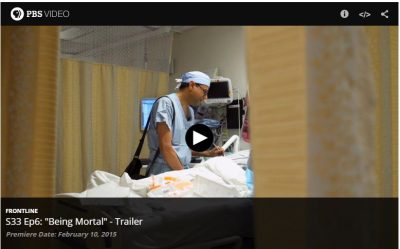 When Dr. Gawande's own father gets cancer, his search for answers about how to best care for the dying becomes a personal quest. After the screening, you can participate in a guided conversation with representatives from Cedar Community at Home and Aurora Health Care on how to take concrete steps to identify and communicate wishes about end-of-life goals and preferences.
See this moving documentary, join the conversation and explore what matters to you.
All are welcome. RSVP by Thursday, Oct. 26 to 262.306.7685 or email [email protected]
Video graphic courtesy PBS.