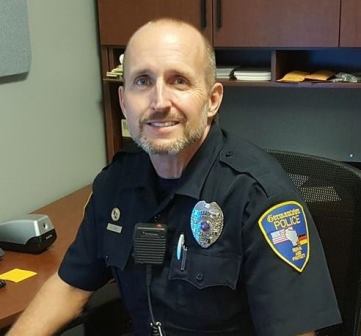 August 20, 2020 – Germantown, WI – It was one of those bittersweet moments this week. Monday, after 21 years of service to the Village of Germantown, Officer Robert Case retired from the Germantown Police Department. Officer Case began his career with the Department on March 15th, 1999.
During his time with the Department Officer Case served as an Evidence Technician, Bike Patrol Officer, Accident Reconstructionist and Field Training Officer.
His most recent assignment was as the Community Policing Officer. In this role he helped resurrect the Citizens Police Academy. He ran several classes during his tenure and revamped the curriculum to include EVOC and MILO based training. He started a, one week, Youth Police Academy, which is a huge success. His passion and commitment to this position were evident in his energetic approach to his assigned tasks and the innovation he demonstrated in taking this position to new levels.
Officer Case has always been regarded as one of the friendliest, outgoing members of the Department. He was passionate about his service to this community and to his fellow officers. His generosity and upbeat personality will be greatly missed.
He made many friendships within the community during his career and received numerous accolades from citizens throughout the years.
We look forward to the time when we may celebrate Bob's service to the community. As energetic as Officer Case is, we are sure he has several plans for his retirement. We wish him well during his retirement, he has certainly earned this!
Bob, I pray the Lord bless you and your family, that He keep you safe and that He watch over you as you have done for so many for so long.