Gifts That Give Hope Fair wants to Thank YOU! By Dana Lisowski-GTGH Fair Director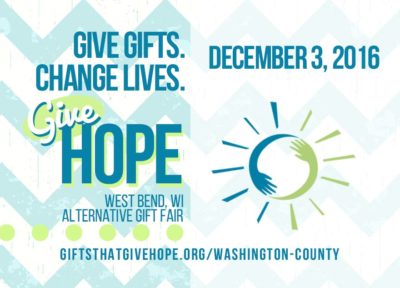 Dec. 8, 2016 – West Bend, WI – A HUGE thank you to my fellow Family Liaisons and our Gifts That Give Hope Coordinator Team:  Jamie Thomas, Krystal Monday, Michelle Proudfoot, Kerry Hughes, Jenny Schrage, Jackie Mages, Joy Kernats, Shelley Hyde, and Eileen Garcia.  The day wouldn't have happened without all of you and the amazing teamwork you displayed!
A shout-out to Erik Olson and the West Bend School District staff and families!  We're so thankful for your support, excitement, and attendance at the event!  A very special thank-you to Amy Keiser—you did an amazing job of getting the word out!
Thanks to our participating Non-Profit Organizations:  Albrecht Free Clinic, Big Brothers Big Sisters of Washington County, Casa Guadalupe Education Center, Elevate, Family Center of Washington County, Family Promise of Washington County, Friends of Abused Families, Interfaith Caregivers of Washington County, LiFE of Hope Project, Seed of Hope Center, and The Youth & Family Project.  You were our inspiration and we're so thankful to be partnering with you!
We're grateful for area businesses that chose to sponsor us in a variety of ways:  Thrivent Financial, Hallmark, Subway, Cousins Subs, Kwik Trip, HSA Bank, Book World, Pick 'n Save, Piggly Wiggly.  You truly made our event possible!
Special thanks to Shadow Photography LLC.  You were the icing on the cake of our event with your professionalism and generosity in taking free pictures with Santa!  Thanks to Bernie Hletko for being the big guy himself!
What an amazing group of volunteers who helped with set-up, Kid's Corner, Snack Shack, Check-out, Greeting, and tear-down!  We can't thank you enough for all the big (and little) things you did to serve and make the day a success!
Thanks to:  Julie, Cooper, Ethan, & Grace Hletko, Laura Westergard, Adrienne Schneider, Mary Tighe, Amy Luedtke, Lisa LaBAtte, Laurie Mertens, Meghan Macfarlane, Brad & John Kernats, Isaac & Parker Schrage, Tony & Isaac Lisowski, Aden & Aiyana Garcia, Archie, Theo, & Eloise Hughes, Sandie & Megan Fischer , Brooklyn Monday, Cayla Matic, Michele Laufer, Sophia Tamez, Annabelle Gonnering
And we can't leave out Judy Steffes, Washington County Insider—we sure appreciate you helping us get the word out and helping us with PR 101!  The Mannequin Challenge was a blast!
Thank you all!  We are still open for online sales until Dec. 12 and we're already looking forward to our 2nd annual Gifts That Give Hope Fair in December 2017!  Hope to see you there!
Dana Lisowski                                                                                                                                                                                 Gifts That Give Hope                                                                                                                                                      Alternative Fair Director