Gifts that Give Hope Gift Fair is Saturday, Dec. 2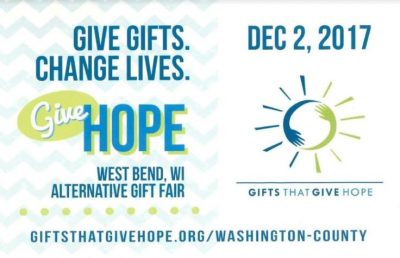 West Bend, WI –  Achieve even more meaning with your holiday gift giving by attending Washington County's second annual Gifts That Give Hope Alternative Gift Fair,  Saturday, Dec. 2 from 10 a.m.-2 p.m at Silverbrook Intermediate School, 120 N. Silverbrook Drive, West Bend.
Sixteen local nonprofits will staff booths to show how they impact this community. Learn more about them and then purchase gifts in honor of your family and friends by making donations. Bring the kids so they can make donations too and get a free picture with Santa.
Click HERE to visit the website for more information, including a list of the nonprofits in attendance.