Gov. signs on to consolidating public health departs
Spotlight to be on Washington Ozaukee Public Health Department Merger
Law change provides innovative opportunity for service delivery, national public health organization takes notice
This week, Governor Walker signed into law AB 362, relating to multiple jurisdictions' health departments—a law change needed for Washington and Ozaukee County's recent initiative to consolidate public health departments.  The bill provides the pathways to do so and improve efficiencies within the County.  The consolidation project received overwhelming support from all local and state elected officials within the jurisdictions resulting in a project grant from the Robert Woods Johnson Foundation to help measure outcomes of the project.
"State legislators constantly talk about the need for more efficiencies, streamlined services, and smaller government. This bill accomplishes all of these laudable goals. It is encouraging to see local leaders stepping forward with creative solutions to the use of taxpayer resources. When such opportunities present themselves, the State should do everything it can to serve as a partner in such efforts," Senator Duey Stroebel stated.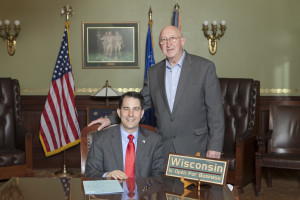 The new department will receive a $75,000 grant from the Robert Woods Johnson foundation to measure public health outcomes of the merged department.  "This is particularly exciting for me," said Health Officer Kirsten Johnson.  "To have the opportunity to be a national leader in the provision and delivery of public health services and demonstrate our ability to successfully merge two organizations without negatively impacting the population we serve."
The project is set to save taxpayers at least $300,000 ($250K in Washington County) by reducing overhead costs and sharing operational expenses.  In addition to reducing costs, the joint operation will maintain or enhance service levels in the communities by combining the best attributes of both organizations and leveraging these strengths across county lines.  The new department features a shared Board of Health and a single Health Officer for both jurisdictions, fully integrating the operations between the two jurisdictions. 
"The consolidation should improve efficiency and help deliver services at an overall lower cost to residents," said Washington County Administrator Joshua Schoemann.
Resolutions recently approved by both County Boards provide the framework for the intergovernmental agreement in which Washington County Health Department and Ozaukee County Health Department will unite to create a distinct, multi-jurisdictional health department.  Using this innovative approach, the new entity will serve a population of approximately 220,000 including West Bend, Hartford, Newburg, Germantown, Jackson, Richfield, Kewaskum, Slinger, Port Washington, Cedarburg, Mequon, Grafton, Saukville, Fredonia, Thiensville and Belgium.  The combined population served will be slightly larger than Racine County and maintain both physical locations in Port Washington and West Bend. 
The Health Department provides a variety of services that include communicable disease control, emergency preparedness, environmental health, food safety and recreational licensing, immunizations, and general public health services including services for women, infants and children.