Great fun at the Nabob Prairie Riders Winterfest and Fisheree | By Daniel Selness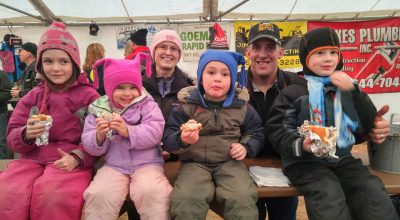 Dec. 15, 2018 – Big Cedar Lake, WI –  This winter season marks the 45th anniversary of the Nabob Prairie Riders Snowmobile Club. The original founding members include families like the Dornackers, Kedingers, Rileys, Retzlaffs, Stoeffels, Holtz's, and Ritgers who formed the club to more closely focus on the trail system within the Nabob area.
These founding members were originally part of the neighboring Allenton Sno Pacers Club, but their desire to have and maintain a new trail system in the Nabob area (primarily area around Highways 33, Hwy 144 and I41) led to the formation of the Nabob Club.  
We are very thankful these founding families opened their land for snowmobile trails and that still holds true today. 
Many of the original landowners, their children/grandchildren and others continue to open the same land to snowmobilers. 
Please join the Nabob Prairie riders on Jan. 5, 2019 at the House of Heileman's on Big Cedar lake for the annual Winterfest/Fisheree.  
Fishing is from 6:30 a.m. to 3 p.m., entertainment in the tent includes music, food and drink all available from 9 a.m. to 7 p.m.     
Last year's winners in the fisheree include:
Northern Pike- none
Sponsor – Jim Jeffords (Walleye)
1st $75 Ayden Maertz
2nd $40 Bryce Woeckner
Sponsor – Penny Zagel – Allstate Insurance (Bass)
1st $75 The Souder
Sponsor – Spaulding Clinical (Perch)
1st $75 The Souder
2nd $40 Tim Zimmerman
3rd $25 Tim Zimmerman
Sponsor Abel Plumbing (Crappie)
1st $75 Wade Herda (tie)
2nd $40 Jordan Ritger (tie)
3rd $25 Wade Herda
Sponsor Wilkes Plumbing (Bluegill)
1st $75 Dave Phillips
2nd $40 John Catdzozzio
3rd $25 Ron Ritger
Sponsor Sierra Homes (Sunfish)
1st $75 Mitch Zerwinstic
2nd $40 Brandon Chipman
3rd $25 Jay Gindt
KIDS -Category Sponsor Fill n'Chill Gift Cards
Bass
1st $10 GC Chao Gordon