August 25, 2020 – Hartford, WI – The Hartford Lions Club is heavily involved with vision-impaired people all over the world.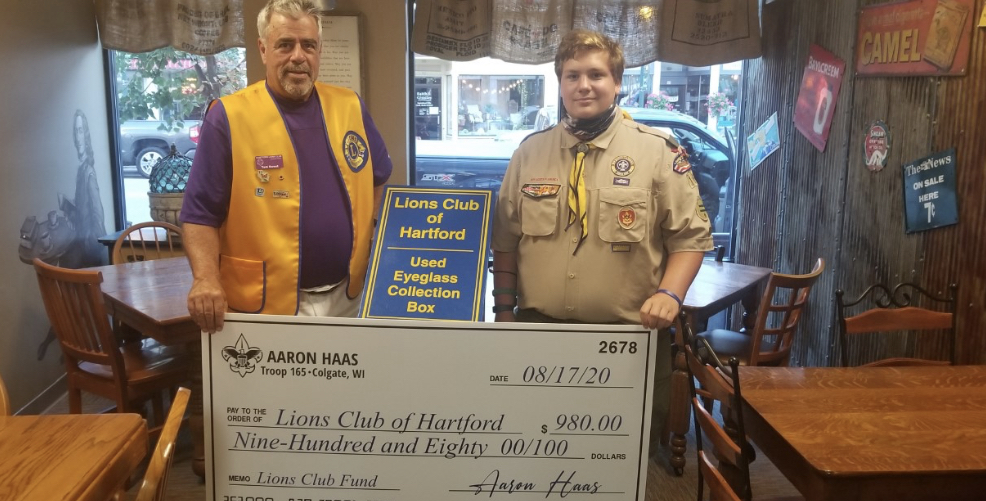 The Lion Club teamed with Boy Scout Aaron Haas, 14, of Slinger as he worked to complete an Eagle Scout project to build eyeglass collection boxes. This was designed to be coordinated with a Boy Scout doing his Eagle Scout Project.
Haas and his family met with leaders of the Lions Club and Aaron persisted in getting the project okayed by his troop, fund raising and bringing together a group of fellow scouts to work on the project.
The design of the boxes was modified slightly and the final project looked very sharp. The boxes will be placed in high-traffic areas like U.S. Post Offices, credit unions, schools and libraries. Total man hours in the project hit 150.
Highlighted in Lions Club yellow and blue colors, the boxes are sure to raise public awareness of what the Lions Clubs stand for as well as increase the collection of used eyeglasses, which are then refurbished and sent to undeveloped countries all over the world.
Aaron is entering Slinger High School where he has been part of Student Council and National Honor Society.
He will be a class officer his freshmen year. He was on the Yearbook Committee and Forensic team all 3 years of middle school.
With the Scouts, he earned Life Rank, went through National Youth Leadership Training, got confirmed at Still Waters UMC, and became a member of Brotherhood of the Order of the Arrow.
Aaron also donated $890 to the Lions' Club that represents fund raising that did not go to the actual project. This was all warmly received by the Lions Club organization.
Aaron gave a fantastic recount of the entire project and the Lions Club expects to see him going a long way in life. Many thanks for a job well done.