April 15, 2021 – Hartford, Wi – The City of Hartford is expecting a large turnout at a meeting next Tuesday, April 20 as the common council considers taking more requests on Class B liquor licenses.
Class B liquor licenses have primarily been for bars and restaurants where consumption is on the premises. However, there is now a wrinkle in the law that says bars and restaurants can sell alcohol to go.
In Hartford the Class A liquor license ordinance, which dates to 1978, prevents any grocery or convenience store from selling alcohol. The ordinance was designed to protect the mom-and-pop liquor stores in the community.
Currently Hartford has four liquor stores including Hartford Wine and Spirits on Sumner Street, B&S Liquor on S. Grand Avenue, Hilldale Liquor on E. Sumner Street, and Stop-N-Go Convenience Center. Those stores hold Class A liquor licenses. The other stores grandfathered in include Goehman's Rapid Mart, and Hartford Co-op.
The idea to initiate change occurred this week when representatives from Fox Bros. Piggly Wiggly asked the council for a Class B liquor license.
Mike Olwig, vice president and director of operations for Fox Bros., and store director Brian Hass spoke to the council and outlined a number of reasons why they were requesting the Class B license.
Fox Bros. has eight other locations with liquor licenses
Store will provide training to all operators with online serving classes
Store will follow all laws and local ordinances
Some grocery competition is coming to Hartford next year and they've already secured a liquor license (Class B)
Weekly customers ask where the liquor department is at Hartford Piggly Wiggly
Fox Bros. Piggly Wiggly is a 100% employee owned store and it is a good community servant
Click HERE for details on City of Hartford municipal code and statues on liquor licenses.
On Tuesday, the council approved a Class B liquor license for Piggly Wiggly which means the grocery on Sumner Street can sell alcohol.
This is the first grocery store in the City of Hartford that has been able to sell liquor.
The City of Hartford only has a certain number of Class B liquor licenses. On Tuesday, April 20 at 7 p.m. the council will consider changing the ordinance and instead of only allowing one Class B license for every 3,000 in population it will change to offering a Class B license for every 1,000 population, which would equal about 15 Class B licenses available in Hartford.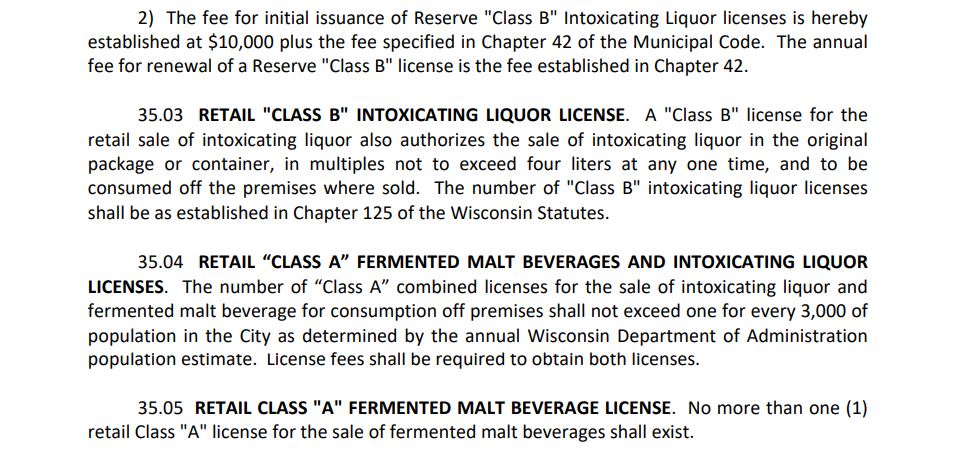 City of Hartford Administrator Steve Volkert said he will be contacting about a dozen local businesses today to encourage them to attend next Tuesday's meeting. "This is going to be a gamechanger for Hartford," he said.