Hartford Union High School to host Veterans Breakfast | By Jana Danay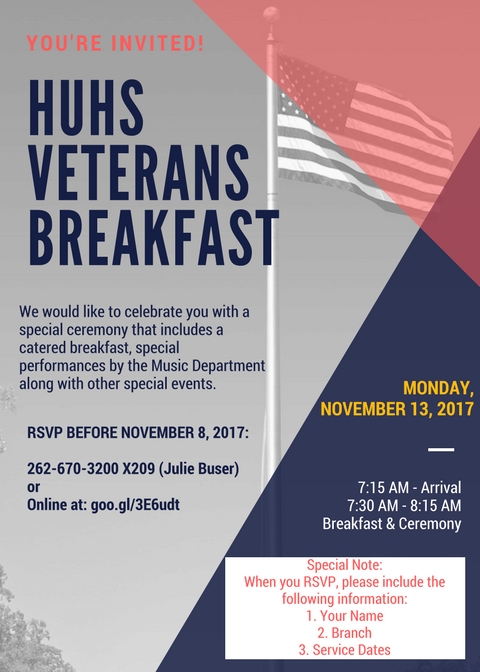 Nov. 3, 2017 – Hartford, WI – Hartford Union High School (HUHS) is hosting a free Veterans Breakfast on Monday, Nov. 13, 2017 from 7:15 a.m. to 8:15 a.m.  to commemorate all those who served our country.
All Hartford area veterans are cordially invited to attend the event, which includes a cooked breakfast, music, and a keynote speaker.
The courtesy of an RSVP is requested by November 8. Veterans can RSVP for this free event by calling Julie Buser, Superintendent's Assistant, at (262) 670-3200, extension 209; emailing [email protected]; or by visiting goo.gl/3E6udt.
Students in HUHS's Leadership and Project Management class are the primary hosts of the breakfast, which is designed to offer thanks and pay respect to those in our area who have served in any branch of the US Armed Forces, either in wartime or peacetime.
"This is an excellent opportunity for the school community and members of the community at large to come together, break bread, and say thanks," said Dr. Attila J. Weninger, Superintendent of HUHS. "We are especially pleased to honor our local veterans, whose service and sacrifice make our way of life possible."
The Leadership and Project Management class at HUHS will greet the attending veterans and visit with them during breakfast. High school teachers and staff who are veterans, along with members of the administrative team and the School Board, will also be in attendance.
The HUHS band will perform music appropriate to the occasion, and a keynote speaker, School Board President and veteran Joshua Schoemann, will offer brief remarks to welcome the veterans and express appreciation for their service and commitment.