December 20, 2019 – West Bend, WI –The Hometown Foundation Inc. presented a $2,000 check to the Washington County Historical Society and a $500 check to the Downtown West Bend Association on Wednesday, December 18, 2019. These donations came directly from proceeds of the 5th Annual HomeGrown Music Festival, which took place on Sunday, July 7, 2019 at Regner Park in West Bend, WI.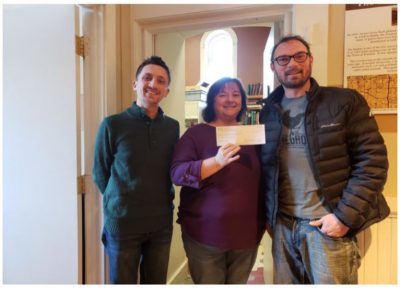 Since it's foundation in 2015, the HomeGrown Music Festival has focused on providing local artists the opportunity to perform live, original music in a public setting. It has steadily grown, with over 1,500 people attending the event in 2019. Dedicated support from residents and businesses from Southeastern Wisconsin has allowed the HomeGrown Festival to donate over $10,000 to local organizations.
"This unique concept brings awareness to local artists, local businesses and community organizations, while engaging our Hometown in a positive way. We are always looking for partners who share in the mission of nurturing the quality of life in Washington County through arts and entertainment." said Mike Christian, co-founder and Vice President of The Hometown Foundation Inc.
The 2020 HomeGrown Music Festival takes place on Sunday, July 12 and includes an exciting line-up of musicians. For additional details please visit homegrownmusicwi.com or hometown.foundation