Washington County, WI – Town of West Bend Air Force veteran Gary Logan, who will be turning 80 in June, will be joining seven other veterans from Washington County, WI on the Saturday, April 22, 2023, Stars & Stripes Honor Flight to Washington D.C.
Logan enlisted through the ROTC program at Ohio State University in 1967 and spent four years in the Air Force, ending his term of service in 1971 with the rank of captain.
"I grew up in Ohio and wanted to go to Ohio State. I graduated with a bachelor's degree and a commission in the Air Force. I requested a two-year delay so I could get my Master's, and the Air Force agreed," said Logan. "Then I did my last two years at Purdue and earned a degree in agricultural marketing. I grew up on a farm and all of my brothers went that way as well."
Click HERE to SUBSCRIBE to FREE local news at
While in the Air Force, Logan worked in food service to start with because he was an agricultural graduate. After 1.5 years he applied for a transfer to another position and finished up as a data processor. "Nowadays you would call that IT," said Logan.
Logan has been married to his wife, Jan, for 26 years. "We met when I was 50," said Logan, "Way back then they had singles attractions in Milwaukee. We were married at St. Frances Cabrini in West Bend."
Logan's daughter, Brianna, who lives in Oconomowoc, WI, will be going on the Honor Flight as his chaperone.
Logan and his wife have two grandchildren, "One is a freshman at UW Oshkosh, and the other is a freshman in high school."
Logan is one of eight veterans from Washington County, WI
going on the April 22, Honor Flight
Following his time in the Air Force, because of his farm experience and his master's degree in agriculture, Logan obtained a job in Chicago working in advertising for International Harvester farm equipment. "I worked with great people," said Logan. He worked for the agency for 12 years until the agency resigned the account.
Logan then moved to Milwaukee and became Director of Marketing for an arts and crafts catalog known then as SAX.
The upcoming Honor Flight will be a unique experience for Logan, "I was there for 4-5 days in the past with my wife and saw all the memorials and museums. This will be different as I'll be going with other veterans and I'm looking forward to that."
Logan had an older cousin who was killed in Vietnam. "We will find his name on the [Vietnam Veterans Memorial] wall when we go," said Melichar, "When we went to Arlington, we found his gravesite. This time we will see the changing of the guards there."
Logan is currently active in American Legion Post 36 in West Bend. In the summer you will see him at the brat fries; stop in and say hello.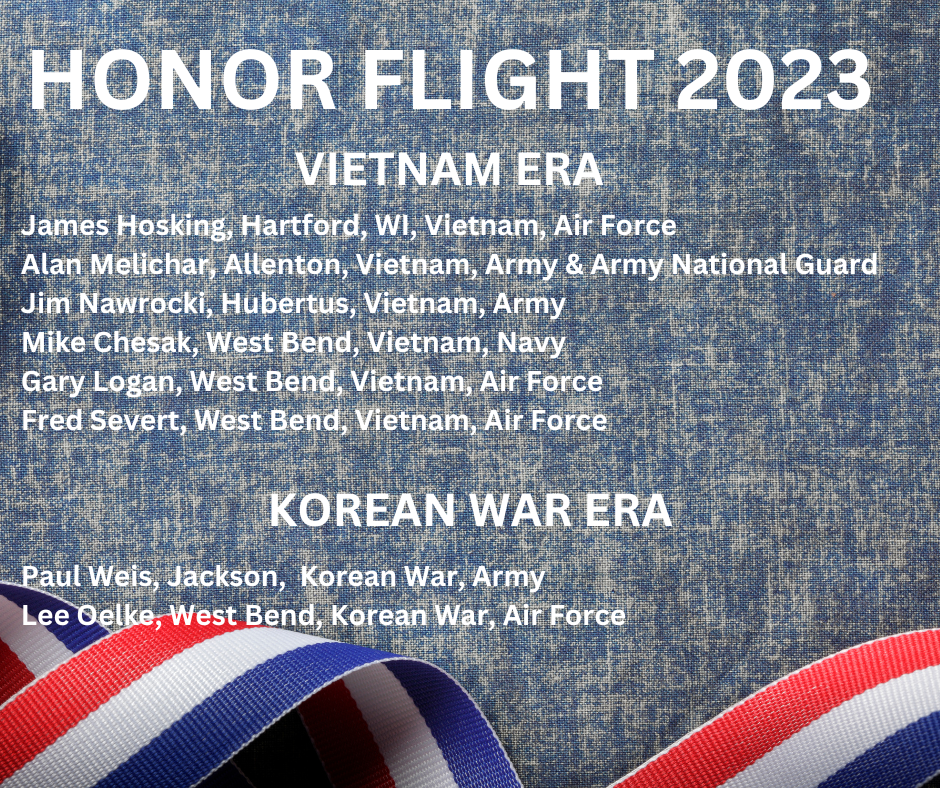 Stars and Stripes Honor Flight is the Milwaukee area hub of the Honor Flight Network.  Founded in 2008, Stars and Stripes Honor Flight has flown more than 7,600 WWII, Korean War, and Vietnam War veterans from southeastern Wisconsin on a one-day, all-expense-paid trip to Washington D.C.