November 23, 2020 – West Bend, WI – West Bend District 6 alderman Steve Hoogester has died.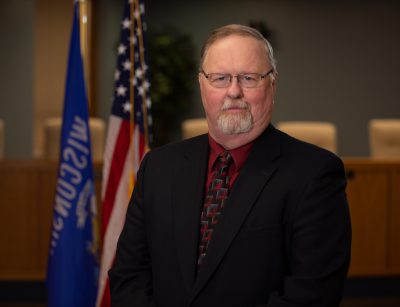 Hoogester graduated Germantown High School in 1973. He started with the West Bend Police Department in the early 1980s and retired after 34 years from the WBPD as a Lieutenant.
He was first elected to the Common Council in April 2013 replacing Mike Schlotfeldt.
With the City of West Bend, Hoogester was part of the Deer Management Committee and Finance Committee.
District 1 alderman John Butschlick said Hoogester was respected and he saw him as a mentor. "He was a very special guy," said Butschlick. "If I ever had any questions he was always straight forward with me. I am really going to miss him."
Hoogester worked with Butschlick on the Deer Management Committee.  "My heart goes out to his wife Cindy and his family," said Butschlick.
"It is devastating news," said Dist. 5 alderman Jed Dolnick.  "I knew Steve when we first started in law enforcement; I knew Steve through our work at the sheriff's department and police department. He was a good friend and this is unbelievable."
Former Dist. 7 alderman Adam Williquette worked with Hoogester on the common council for several terms.  "I sat next to Steve on council for five years and got to know him well during our tenure. He put a lot of time in for the betterment of our community and will be truly missed," said Williquette.
Former Mayor Kraig Sadownikow said, "Simply put, Steve was a good man.  He was a good father and husband and he was proud of his City.   Steve did not run for office to be a politician.   He decided to be an alderman for the same reason he chose law enforcement for his career, to help people."
Former Dist. 5 alderman Rich Kasten said, "I was saddened to hear about Steve Hoogester's passing on Washington County Insider this morning – to be honest, I am still shocked and can't believe it is real. Steve truly became a good friend as we served and sat together on Council for six years as well as when I was on the Crime Prevention Patrol. Always a true gentleman, he could talk about any issue or topic without emotion and he gave it to you straight. As interim Mayor, he provided stability and confidence for the City during some challenging times. I am truly going to miss him and I pray for him and his family during this sad and stressful time."
Hartford city administrator Steve Volkert worked with Hoogester for three years. "Steve was an active alderperson and was always interested in a lot of information and did a lot of research before voting on a topic," he said. "He always wanted what was best for the City. He was just a really great guy."
Former Kewaskum Police Chief Richard Knoebel said he saw Hoogester during training and when the departments worked together on a case. "He was always a nice guy; I really liked him," said Knoebel. "He always had a really great attitude and was very professional."
State Representative Rick Gundrum (R-Slinger) released the following statement
after the tragic news of the death of West Bend Alderman Steve Hoogester:
"Steve Hoogester was a man who cared deeply about his community. I am very saddened by his loss. My thoughts and prayers go out to his family during this difficult time. In law enforcement, Steve worked hard to keep West Bend safe. In city government, he was always admired and respected by his colleagues. He worked tirelessly on ways to improve the city of West Bend on the Common Council and served as Council President. Steve's loss leaves a void that can never be filled. He will be missed."
Even in retirement Hoogester was dedicated to his brothers on the police department. During conversations about the budget he said he would not vote for the budget if it did not include funding for body cameras for the WBPD.
"We can't keep pushing this down the road especially in this day and age," said Hoogester.
According to police in Door County, Hoogester died in a hunting-related accident.
Click HERE for the press release.
Services for are pending. More details will be posted when information is available.