Hot topics for DNR annual spring hearing: Back tags, online voting and a hunting season for sandhill cranes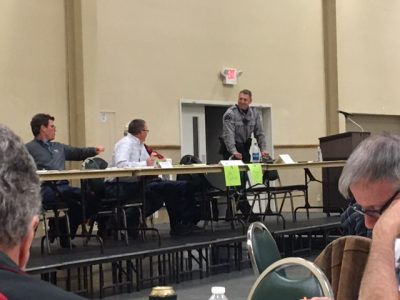 April 11, 20217 – Town of Polk, WI – There were 117 people that turned out Monday night in Washington County for the DNR's Spring Fish and Wildlife Public Hearing at the Washington County Fair Park.
There were a couple hot topics on the night including whether the DNR should develop a hunting season for sandhill cranes.
Bill from West Bend was short and sweet with his support.  "I've shot sandhills in North Dakota and they're delicious," he said.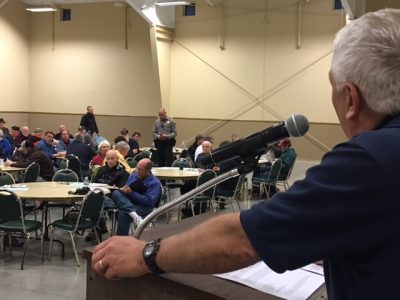 A handful of other hunters voiced their support for hunting sandhill cranes; many cited the crop damaged caused by the cranes and how legislation was a bit messed up because if a farmer shoots sandhills to save his crops he can't legally eat them.
A nature journalist named George said he was opposed to hunting sandhill cranes for a number of reasons. "Like most of you I believe in eating what I kill. I doubt people would eat it.  It might take like chicken or great horned owl," he said.
"A biological point, the sandhill birds mate for life and if we remove one of the birds that removes the reproductive system.
"Most importantly, sandhills look a lot like whooping cranes and whoopers will be killed if this is approved."
Tashina Peplinski spoke as a resident and not as a member of the DNR pane. "Sandhill crane are reaching a point where they're becoming a nuisance population," she said. "We need a way to find to do it safely. Other things to keep in mind is people say they look like whooping cranes, well the first thing we're taught in hunter safety is to know your target and what's beyond."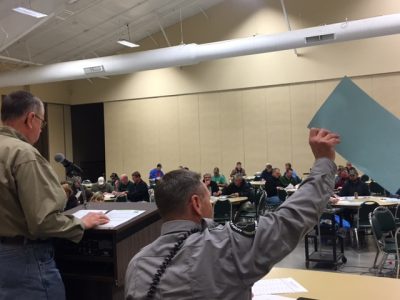 Another topic that drew the most input on the evening was about reinstating back tags. In March 2016 Governor Walker signed a bill eliminating back tags worn by hunters.
A majority of those who spoke on the issue were in favor of returning the tags. Some of them mentioned how it's easier for land owners to identify who is on their property. One man mentioned how ATVs, cars and snowmobiles have number ID's or licenses "so why is it any different than a guy in the woods with a gun. I think it's safer," he said.
Pat Campbell of West bend brought up the 2004 incident in Rice Lake where six hunters were killed by Chai Soua Vang. "Vang shot a hunter who wrote his tag number on an ATV and that helped find the guy," he said.
The tags were used as a way for law enforcement to identify hunters in the field.
Dennis from Hartford spoke against the back tags and called them an inconvenience. "If it rains and I put on a jacket what do I do with my back tag," he said.
The final hot topic dealt with a question about online voter accessibility.  "Would you support the Wisconsin Conservation Congress and the DNR working to offer an online option of the public to provide input on the questionnaire? The elections of the WCC delegates would remain in-person at each Spring Hearing location only.
Corky Meyer, 65, of Kewaskum spoke several times against it. "If they want to vote make them show up," he said.
There were comments about having "no restrictions on who takes the survey."
J.R. Salinas of West Bend said, "If you don't have the time to come down and vote then stay home."
The hearing lasted about two hours. Survey results will be available online as soon as they are compiled. Click HERE to search the results.