It's Election Day and polls are open until 8 p.m.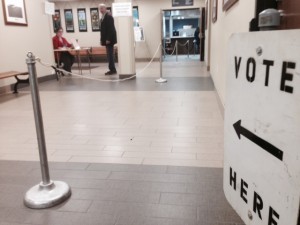 Jan. 16, 2018 – West Bend, WI  – Polls open 7 a.m. – 8 p.m. on Election Day.  Be sure to bring a photo ID.
Neighbors in Slinger, Jackson, Town of Polk, parts of Richfield, Town of Trenton and West Bend will be voting to fill the seat in the 58th Assembly District.
The seat has been vacant following the death of Assemblyman Bob Gannon.
Republican Rick Gundrum is running as a "pro-life fiscal conservative." Click HERE to see a profile on Gundrum.
Democrat Dennis Degenhardt promised to focus his efforts in Madison on education, family-sustaining jobs, and affordable health care. . Click HERE to see a profile on Degenhardt.
Polling locations for West Bend noted below:
District #1 Meadowbrook Manor 475 Meadowbrook Drive
District #2 West Bend Public Library 630 Poplar St.
District #3 NEW LOCATION – First Baptist Church 2300 S. Main St.
District #4 City Hall ~ Council Chambers 1115 S. Main Street
District #5 Washington Co. PAC 333 E. Washington Street
District #6 Washington County Govt Center 432 E. Washington St.
District #7 Moraine Park Technical College 2151 N. Main Street MATC Addition, Entrance T2,
District #8 Cedar Campuses 113 Cedar Ridge Drive
Anyone who is not sure in which Aldermanic District he/she resides, may call the City Clerk's Office at 335-5103.
All polling places are accessible to voters with special needs.
Find your polling location at myvote.wi.gov