Town of Trenton, WI – Visit West Bend Lakes Golf Club, 1241 Highway 33 in the Town of Trenton and one of the first faces you'll see will be Jim Morrison. The trusted Director of Golf will get you set up with a cart, scorecard and if you ask, he may share a little golfing wisdom.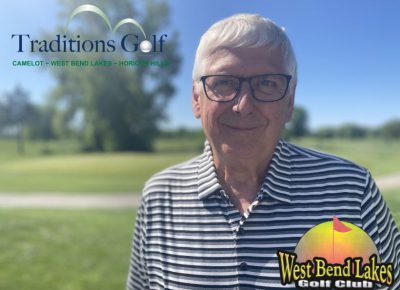 Morrison grew up in the Kenosha area. A graduate of
Mary D. Bradford High School
(now Bradford High School) he swung a club for the Red Devils.
"I actually started when I was a little kid in the junior program at Kenosha Country Club," said Morrison. After high school he turned pro when he was 19 years old at the Monterey Peninsula Country Club working for John Garretson, Jr.
"I went from there, back to Menomonee Falls in Wisconsin, and finished up my apprenticeship with Jim Milward, who was the head pro at North Hills for many years," said Morrison.
It was a love of the game that led Morrison on a path of 55 years of golf. "I said when I was in junior high, I wanted to be a golf pro," he said. "I just enjoyed it. When I wasn't playing, I was searching for balls on the course, I just enjoy being outside with the serenity."
Listed among his favorite courses is the Kenosha Country Club. "It is a
Donald Ross design
," he said. "He is my favorite designer of golf courses; my bucket list is to play every Ross Golf Course he ever made."
Morrison describes the courses as "very well defined" and "tight."
"You have to be very accurate with your placement," he said. "It's not really wide open or a just-let-'er-rip type of course."
Although the love of the game is still prevalent, Morrison is nursing some well-worn knees.  Gone are the days of a 200-yard drive with a Golfcraft club with fiberglass shaft, but Morrison still remembers.
"Bob White was the pro at the Kenosha Country Club golf shop and we actually went to his house, and he helped create my first set of clubs. Loved them," he said. "That was a long time ago."
Morrison recalls some well-known golfers he followed from back in the day, including Ben Hogan and Sam Snead.
As far as the course at West Bend Lakes is concerned, Morrison calls it a "sneaky course."
"It's not that easy," he said. "A lot of people think well, it's flat and easy, especially the front nine. It's a very challenging course."
Morrison said his favorite hole at West Bend Lakes is the par four No. 8. "I like that one's a little dogleg left over the water with narrow green. Reminds me of a Donald Ross design. You have to be very accurate in where you're going. You better hit it in the right spot. There's water behind the green. There's water in front of the green. There's water when you tee off. So, you have to pinpoint a tee shot pretty good."
Between his job at the Pro Shop, Morrison said he now gets out about once every other week, nine holes in the couple's league.
With the new clubhouse finished, Morrison is impressed with that design and the amenities. "They made it
look like the Masters
; as you come off the course and you can see the clock…  I think it's wonderful.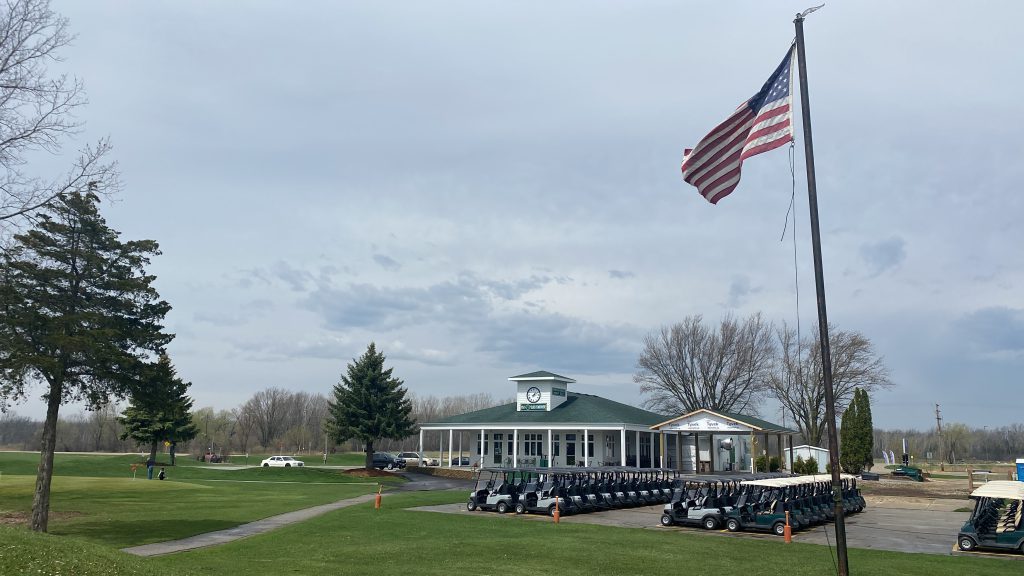 "West Bend Lakes is a hidden gem. People really enjoy this course. There are a variety of holes and people should come give it a try," he said.
Click HERE for more information on West Bend Lakes Golf Club