Kettle Moraine Lutheran falls to Martin Luther in WIAA regional championship. By Jacob Moeller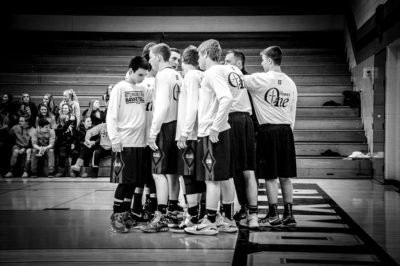 March 5, 2017 – Jackson, WI – Kettle Moraine Lutheran's boys basketball season came to an end Saturday night with a 61-54 loss to Martin Luther.
The Spartans took control of the game in the opening minutes, forcing several KML turnovers to take a commanding lead.
Martin Luther took a 30-17 advantage into the break, and didn't skip a beat in the second half, leading by as many as 18.
Trequan Carrington contributed on both ends for the Spartans, scoring 16 points and collecting 5 steals, both game highs.
Grant Biesterfeld scored 16 for KML, and Solomon Zarling put up 15 points and 13 rebounds to help fuel a comeback in the second half.
The Chargers pulled to within 6 points, but Martin Luther held strong, running out the clock to seal a WIAA Division 3 regional championship.
The Spartans will face conference rivals Dominican in the next round of the tournament.
Photo courtesy of Diane Behm
​