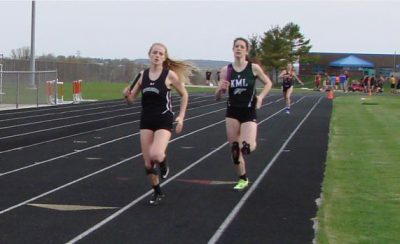 May 15, 2018 – Jackson, WI – Kettle Moraine Lutheran competed in the East Central Conference Championships at Berlin High School on Tuesday night. The Chargers performed very well, earning a number of high finishes.
Lexi Cramer took eighth in the 200 meter, as well as fourth in the 400 with a personal record time of 1:02.72.
Ariana Miller took third in the 400 with a time of 1:00.28. Peyton Weber placed in both hurdle events, taking fifth in the 100-meter hurdles and second in the 300 with a personal best 50.86 seconds. Emily Wittig took fourth in the 300 hurdles, also lowering her best time down to 52.74. Brooke Kary once again took the shot put crown, as well as placing fifth in the discus. In the triple jump, Weber tallied points once again with a fourth-place finish, while Elle Truckenbrod took fifth and extended her personal record to 31' 7.25".
On the distance side, Katie Miller medaled in both of her events, taking third in the 1600 and winning the 3200. Overall, the girls' team took 4th out of the eight schools competing with 113 points.
For the boys, the 3200-meter relay team of Micah Dykema, Austin Schaff, Aaron Weiss, and Jacob Moeller kicked off the day on a high note, finishing third and lowering their time to 8:34.81. Moeller and Schaff both placed in the open 800, taking fifth and eighth, respectively and setting personal records at 2:06.64 and 2:09.69. Weiss set a personal record in the 1600, finishing at 4:42.84, good for a silver medal.
Branden Ulm and Grant Biesterfeld tallied points in the 100-meter dash, coming third and eighth. Ulm lowered his personal best to 11.52 on the day. Freshman Levi Vagnini had a strong performance in his events, taking 7th in both the 400 and 200 and setting personal bests in both races. Magrady Ellis also recorded points in the 400 with an eighth-place finish and a personal record. In field events, Grant Biesterfeld scored in both the high and long jump, finishing in 7th and 6th, respectively.
As a team, the boys placed 7th in the East Central Conference with 52.5 points. With the conference meet in the books, KML sets its sights toward regionals, which will take place at Randolph High School next Monday.

Photo is of Ariana Miller, courtesy of Belinda Matter