KML junior Grant Biesterfeld stepping up to help lead the Chargers this season By Jacob Moeller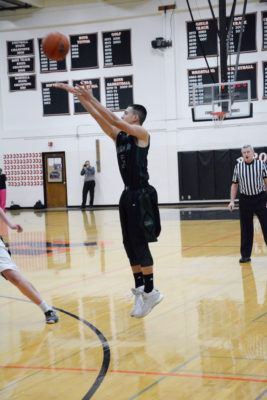 Dec. 28, 2016 – Jackson, WI – After a strong soccer season, Kettle Moraine Lutheran's junior point guard Grant Biesterfeld has turned his focus to the basketball court, averaging 7 points and a 2.2 assists in the KML's first four games.
With Biesterfeld and 11 other talented juniors on the roster, the young Chargers will only get better as the season progresses, and hope to take home their first East Central Conference title.
The third of four brothers, Biesterfeld didn't have to look far for some tough competition in a variety of sports. Both of his older brothers, Tyus and Colin, played varsity soccer and basketball at KML, and Colin has continued his basketball career at Wisconsin Lutheran College.
Grant has been playing against his older brothers since he was 7 years old, and competing against them helped him develop his game much faster than his classmates.
This advantage became especially apparent last season, when Biesterfeld was one of just two sophomores to make varsity.
This season, the Chargers needed to replace their entire starting lineup and have relied heavily on Biesterfeld's production to fill the void left by 10 graduating seniors.
As one of only four players with varsity experience on the roster, Biesterfeld leads the team in minutes and he's had to step up as a leader with intelligent and confident play. "My role is to be the player that can control a game," he said. "It is my job to run the team, whether by slowing the offense, getting teammates open for passes, or scoring; it is my job to make the game easier for us all."
Though the KML team is young, Biesterfeld is confident they can contend with some of the best teams in the state. "We want to be in the top three of the East Central Conference," he said. "We want to win regionals, sectionals, and eventually make it to state. That is the goal."
KML has shown its mettle against some tough competition already this year, taking defending state champion Waupun down to the wire and holding off a quality University School squad for a non-conference win.
The hardwood is not the only place where Biesterfeld excells. He was a consistent starter for the school soccer team in the fall, helping secure second place in the East Central Conference and a regional championship.
When basketball wraps up, he'll turn his attention to the track team, where he competes as a sprinter.
"The challenge is that life is like one long season. Soccer, basketball, and then track seem almost like a continuation of each other," he said. "I love it though; it's fun to be busy."
Beyond just competing, Biesterfeld also enjoys the lessons that can be learned through sports. "I believe nothing prepares you for challenges in life as much as sports do," he said. "The work ethic, problem solving, and leadership I've been able to attain from sports will help in my everyday life after high school."
With plenty of athletic talent and dedication to excellence, Biesterfeld is doing all he can to lead the Chargers in their pursuit of a state championship.