April 12, 2022 – Washington County, WI – The West Bend Knights of Columbus would like to thank area shops and businesses for their participation in Good Friday.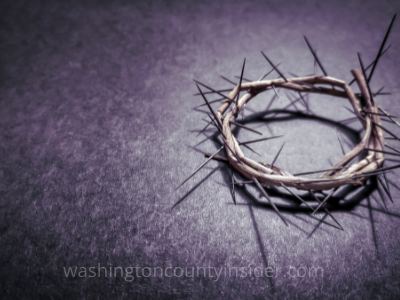 These businesses have put faith above the dollar and in gratitude and thanksgiving to Jesus Christ for His bitter passion and death on the cross and will be closing their businesses between the hours of 12 p.m. and 3 p.m. on Friday, April 15, 2022.
"We applaud their courage and faith and ask all the people of West Bend, Barton, and Kewaskum to stop in and say thank you, and patronize these businesses in support of closing for those three hours include: HTG Jewelers, Collett Systems LLC, Winkler Office Supply, Bits n' Pieces Floral… CLICK HERE for the full listing of participating businesses," said Knight Jim Gugg.
Click HERE to SUBSCRIBE to FREE local news at
"We also salute all the Christian churches that have encouraged their faithful members to refrain from all commercial activity from 12 p.m. to 3 p.m. It is such a small sacrifice to make but one that will reap eternal rewards."
Look for businesses that have this sign on their doors:
Good Friday is among the most sacred days of the year for Christians because it commemorates the crucifixion of Jesus Christ at Calvary on a Friday afternoon, an event that is central to the Christian teachings about salvation from sin.
This year, the Knights of Columbus asked all merchants to close their stores on Good
Friday from 12 noon to 3 p.m.
Many local churches hold Good Friday services during this time window; closing gives you and your employees a better opportunity to attend an area church service, as well as allowing time to give thanks for the sake of our redemption and to be grateful for the blessings we have been given. Our community can become a beacon of light needed in this fallen world to give direction once again to that which is truly important. It will draw down blessings on us and our family and friends as God looks down and sees us being thankful and reverencing the sacrifice of His Son.