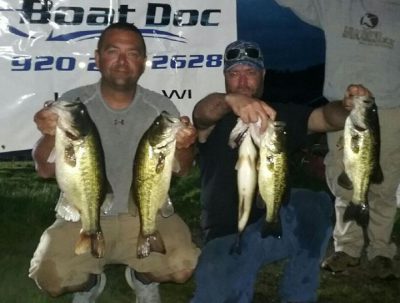 June 9, 2018 – Washington Co., WI – The fourth stop of the Kettle Moraine Monday Bass Tour took place on Long Lake Monday, June 4.  Despite Mother Nature bringing strong winds and rain towards the end of the night, the league registered its biggest night of the year for quality and quantity of fish.
There were 18 teams signed up and an impressive 13 teams brought in a 5 fish limit at weigh in.
1st Place- taking home their first win of the year were Joe Koch and Mike Cloninger.  The duo brought in a big bag of 5 fish that topped the scales at a impressive 13.70 lbs.  On top of that, they also brought home big bass honors with a whopping 4.27 lb largemouth.
2nd Place-Backing their 1st place in the previous tournament, Vince Hytry and Dennis Mantych brought in a solid bag of 5 fish at 12.40 lbs.
3rd Place-Continuing their hot start to the season were Tom Faucher and Jody Dent.  The duo had a solid bag of 5 for 12.26 lbs to bring home there third top 3 finish of the year.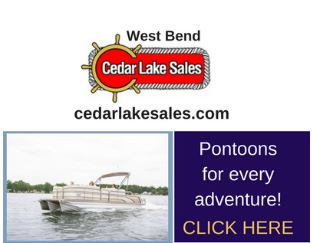 4th Place- Rounding out the winners circle were Caleb Niedfeldt and Adam Zinda.  The pair also had a solid limit at 11.51 lbs.
The club is off to Pike Lake next Monday, June 11 for the fifth stop of the season.