March 21, 2018 – Slinger, WI – The 5th annual Legendary Whitetails Warehouse Sale is March 24 and 31.
The locally-owned company in Slinger,  820 Enterprise Drive, will open its 62,000 square-foot warehouse to the public from 8 a.m. – 4 p.m. and offer 50% to 75% off retail price on discontinued items, product samples and lightly-used items.
The event will feature the highly popular Legendary Whitetail Outfitter Hoodie at $9/each when purchasing four or more, a Bowie Knife for $15 and thousands of other items.
For those of you who have attended the Warehouse Sale in the past, Legendary Whitetails is touting a new checkout experience that will cut down on wait times and there will be opportunities to enter a social media themed contest to win $50 gift cards.
Boy Scout Troop 731 from Slinger will be onsite for a brat-fry fundraiser to make sure no one is shopping on an empty stomach.
Legendary Whitetails will also be displaying new styles featured in its Spring Assortment including items in the new Anglers Collection.  Click BELOW for a sneak peek.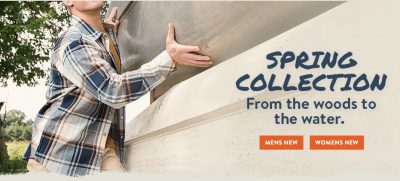 If you have any questions on the Warehouse Sale you are encouraged to e-mail [email protected]