Legislative breakfast addresses drug addiction in Washington County | By Ron Naab
Dec. 11, 2018 – Washington Co., WI – The December 2018 Legislative Breakfast hosted by Washington County Heroin Task Force and Elevate was very well attended by counselors, law enforcement, neighbors, family members affected by those addicted to drugs and county officials.
State Legislators present included State Senator Duey Strobel, Assemblymen Rick Gundrum and incoming assembly Rep. Tim Ramthun.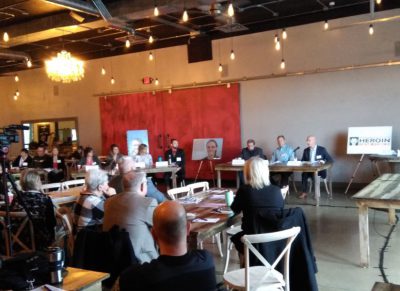 The hour-and-a-half meeting started with Terry Bogues, a mother of addict, who told a story about how her child died of an overdose despite a number of years spent in recovery.
Bogues' story included details of the emotional ups and downs experienced by a parent and then the tremendous loss to death.
Representatives from Elevate spoke including executive director Mary Simon and Elevate's director of Prevention Services Adam Kindred. He talked about the positive effects of the Treatment Alternative and Diversion program [TAD].
TAD is a pro-active intervention with clients assigned by the courts to get involved in a recovery program for all addicts.  This program helps individuals suffering from addictions in lieu of confinement in prison.
Other speakers included concerned parent Michelle Simpson, assistant Washington County District Attorney Sandra Giernoth, and Michelle Heterbrueg, Corrections Field Supervisor for the Wisconsin Department of Corrections.
The consensus of all speakers included a need for more safe way housing, affordable treatment centers and involvement of school districts to incorporate evidence-based educational programs in our schools [i.e. Too Good For Drugs].
All three legislators made a commitment to work with legislation to help combat the opiate/opioid epidemic.