Hartford, WI – The Jack Russell Memorial Library is launching a new contactless service "Hold N Go" pick-up through the myLIBRO application. This service will offer a contactless alternative to traditional methods of accessing library books, materials and services.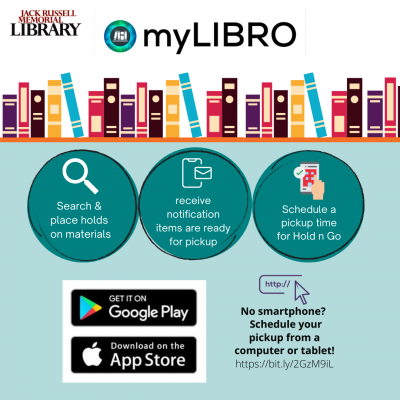 The myLIBRO app allows patrons to search the library's catalog, confirm item availability, and place a hold.
The library receives a notification of the pickup through a dashboard that allows it to be tracked from collection to pick up.
Once the items are ready for pickup, patrons are notified either via phone or email and from there they can schedule pickup through the app.  Patrons can also offer feedback on the experience if they choose, with patron satisfaction tracked in the dashboard system.
Hold N Go pickup is available during regular library hours, by appointment, via the myLIBRO application which patrons can download via the Apple App Store or the Google Play store.
For patrons who don't have a smart phone, please call (262) 673-8240 and select "0" to schedule a pickup or visit the library's website at hartfordlibrary.org and click on the myLIBRO icon.
JRML is thrilled to offer a solution to our community that makes accessing the library as simple as ordering groceries or takeout from a local restaurant.