Washington County, WI – "After our initial meeting with Sales Director Cathy Majkowski about the variety and availability of independent living options at Cedar Community, I was sold. I was just wondering how I was going to convince Debbie since we had lived in our current home for 30 years," says Marv Wolf.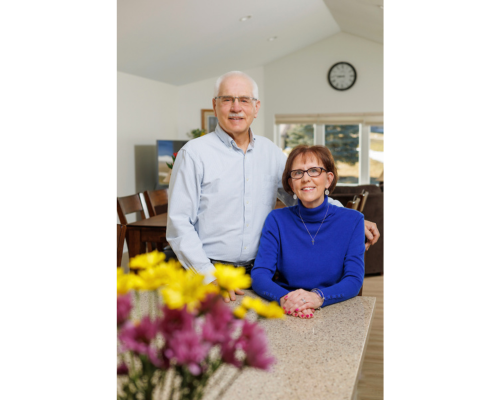 Following a tour of Cedar Community's Cedar Ridge Homes, Debbie walked out the door, turned to Marv and said, "When can we move in?"
The Wolfs have lived in West Bend their entire lives and are only a few miles from where they raised their son. Their new home offers a similar amount of space, but the best part is their home is now worry-free—with Cedar Community taking care of maintenance and snow removal. "Moving here also fit into our love for camping or 'glamping in our fifth wheel,' as we call it. We can lock the door, leave, and know it's secure. The best part is not worrying about cutting the grass while we are vacationing," says Marv. "It's a great amenity
here—being taken care of."
Marv attended Holy Angels School and went on to high school at DeSales Preparatory Seminary in Milwaukee, while Debbie attended St. Frances Cabrini and then West Bend High School. After Marv decided that attending the seminary was not his chosen path, he met Debbie at the University of Wisconsin-Washington County where both were studying.
CLICK HERE to read more about Marv and Debbie Wolf in Cedar Community's Spring edition of Live More magazine.