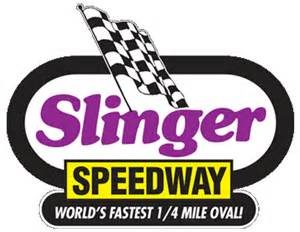 July 3, 2017 – Slinger, WI – The one asphalt racetrack in the state of Wisconsin that Ty Majeski had yet to win at was the Slinger Speedway until Sunday night when the Seymour, Wisconsin driver notched his first victory in the 75-lap super late model main event.
Majeski took the lead from three-time track champion Steve Apel on lap 42 and took on the best Slinger had to offer before driving away to the win over Dennis Prunty and defending track champion Chris Blawat.
"We've always had really fast race cars here and just didn't have the results to show for it," Majeski told the crowd from victory lane, "We set fast time and were able to get it done in the feature. The car was phenomenal and it was just kind of a tune up for the Slinger Nationals and I think we've got a good piece."
"We were racing pretty hard there and I really couldn't tell where he was going to go," Majeski continued, describing the battle for the lead with Apel just after the halfway point, "Once he would give me the whole race track and next time he would protect the bottom and give me the outside. I was just kind of guessing where he was going to go and I set him up out of turn four and he gave me the outside there. I was assuming he was going to let it go to the wall and we made a little bit of contact. I apologize for that as we've always raced really good together and I definitely didn't want to get into him like that but overall it was a good race."
Apel and Blawat led the field to the green flag and Apel quickly jumped out front leaving Apel to battle with Alex Prunty and Rich Loch while Majeski and Gary LaMonte followed close behind. Apel was able to maintain the lead after a quick caution on lap nine for Brad Kossow's looped machine in turn four and as racing resumed, Majeski began to work his way forward, moving into second place and bringing LaMonte with him into third. The second caution flag waved on lap 35 when Conrad Morgan slid through the front stretch grass and on the restart, Apel was able to keep command of the event with Majeski right in his tire tracks. Majeski was able to edge to the inside and muscle his way into the lead on lap 42 but Apel remained determined and immediately began to return the pressure for the top spot. The two battled fiercely for the lead with Majeski barely remaining out front as the caution flag flew again on lap 43 for when Rich Loch's car spun off turn four while racing with Grant Griesbach and Griesbach "tapped out" to take responsibility for the incident. A lap after going back to green with Majeski still leading Apel, contact between the third and fourth place cars bunched the field and the accordion effect caused numerous cars to scatter bringing out another caution flag. Majeski and Apel resumed their lead battle as the green flag appeared with Majeski keeping the lead with a strong "hole shot" into turn one from the inside lane. Apel remained glued to his rear bumper but as the two exited turn four, Apel's car broke loose and as he spun back across the track, he was collected by the cars of Alex Prunty, Rob Braun, and Rich Loch necessitating a lengthy clean up. With Apel now retired from the event, Gary LaMonte stepped up to challenge Majeski out front but his challenge ended early with a broken trailing arm and he too exited the event. That left Blawat, Dennis Prunty, and Ryan DeStefano to challenge for the runner-up spot as Majeski cruised away out front. The trio fought intensely for the second position which Dennis Prunty came away with after the three ping-ponged off each other exiting turn four. Majeski proved to be too strong however and he drove to his first feature victory at the Slinger Speedway. Dennis Prunty held on to finish second while Blawat was third. Brad Keith advanced late to finish a strong fourth and DeStefano was fifth.
Florida driver, Steve Dorer won the 30-lap super late model semi-feature over Mike Held and Jamie Wallace. Mark Eswein finished fourth and Jerry Mueller was fifth. Super late model heat race victories were captured by Derek Kraus, Dennis Prunty, and Alex Prunty. Majeski was the fastest qualifier with a lap of 11.305 seconds.
Kyle Chwala held off the challenges of Jon Reynolds Jr. to score his first late model feature win of the season in the 40-lap main event. Jakob Hassler  ran up front all race and finished third followed by R.J. Braun and Nick Roehl. Adam Peschek finished sixth and Shaun Scheel was seventh. Jack Stern, Brian Holtz, and E.J. Waldron rounded out the top ten. Late model heat races were won by Roehl, Scheel, and Peschek while Waldron set fast time at 12.290 seconds.
Paul Wagner drove to the victory in the 30-lap Area Sportsman feature after holding off Andy Welter and Joe Shelby in a three lap shootout after a late caution flag appeared on lap 27. Jay Kalbus finished fourth and Jake Schraufnagel was fifth. Rich Wagner and Andy Welter each won an Area Sportsman heat race and Kalbus was the fastest qualifier after setting a new track record at 12.845 seconds.
Nick Schmidt broke Tom Berens winning streak by taking the win in the 25-lap Super Beez feature as Berens hsd to settle for a close second at the finish. Steve Zoromski finished third while Jayden Buckley and Dale Kiley-Schaefer rounded out the top five in fourth and fifth respectively. Nick Schmidt also won the Super Beez heat race and Tom Berens set fast time at 13.860 seconds.
Marty Tackes picked up his second feature win of the season in the 25-lap Slinger Bees main event by holding off Paul Reagles to take the victory. Anthony Dorzok finished third ahead of Carl Benn and Al Strobel. Strobel and Carl Benn each won a Slinger Bees heat race and Tom Elsinger Jr. was the fastest qualifier at 15.219 seconds.
Scott Goetzke won the Figure 8 race after Ryan Lovald and Ron Schmitt collided in the "X" with two laps to go to close out the evening.