The 31-year-old Hartford man accused in the robbery Thursday, Feb. 25 of the Westbury Bank in West Bend, 2501 W. Washington St., is set to appear in Washington County Court on three felony and two misdemeanor charges.
According to the Washington County District Attorney's office Paul M. Schneider, 31, of Hartford is facing a felony charge of robbery of a financial institution along with two other felony charges of bail jumping.
Schneider is also facing two misdemeanor charges of resisting/failing to stop/fleeing and resisting or obstructing an officer.
West Bend police took Schneider into custody following a brief chase last Thursday after he reportedly handed a note to the employee at Westbury Bank, left with an undetermined amount of money, ran across the road to his truck and took off.
Following a brief police chase police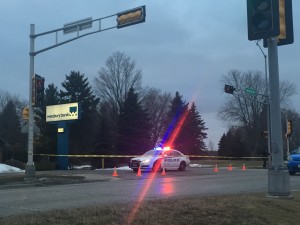 Schneider stopped his truck in the Fleet Farm parking lot, 1637 W. Washington St.
Officers ordered him out of the truck.
A criminal complaint shows Schneider exited the truck holding a knife to his neck. Officers attempted to get him to drop the knife.
After a brief period Schneider cut his neck before officers could disarm him. He was conveyed to Froedtert Hospital where he was treated for self-inflicted injuries.
Schneider will appear April 13 before  Judge James Muhelbauer for a 9:45 a.m. hearing.
A records search shows Schneider is familiar with the legal system. He's set to appear before Judge James Pouros on Wednesday, March 2 on three felony charges of receiving stolen property. That was in connection with an incident Dec. 4, 2015.
In June 2008, Schneider pled guilty in Washington County Circuit Court to two charges of cocaine possession.
In December 2004, Schneider pled guilty to two counts of possession of THC.