September 22, 2020 – West Bend, WI – Margaret Rose (nee Rogers) Markey departed this world to be reunited with Her Lord, Our Savior on Monday, September 21, 2020 where she joined her husband and love of her life, Roland.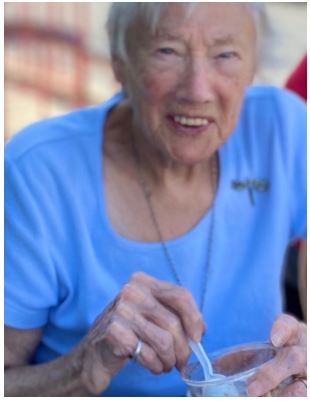 Margaret was born on October 6, 1930 in Sheffield, Yorkshire, England, eldest daughter of Albert and Nellie (nee Ward) Rogers.  Having grown up during WWII, she often recalled and shared the memories of surviving the bombing blitzes of Sheffield, during which she and her family learned the true meaning of friendship and community; surviving on food rations for 5 years and more nights than not sleeping on a cot in the fall-out shelter that was shared with three neighboring families while bombs dropped all around them.
In 1950 she married the love of her life, Roland Markey, in Sheffield, England.  One evening after her shift ended at a local insurance company, she planned on meeting up with her Royal Air Force pen pal for dinner.
Unbeknownst to Margaret, Roland accompanied her pen pal friend to Sheffield and when Roland saw Margaret walking towards them, he told his friend to go home because this was the girl he intended to marry.  Together, Margaret and Roland created a life full of adventures, travel, love and laughter.
They emigrated from England to Canada in 1955 and later to the United States; residing first in Iowa, briefly in Illinois and finally settling for good in West Bend, Wisconsin.
One of Margaret's greatest passions was cooking, baking and entertaining.  On many weekends and most holidays, the Markey home was filled with family, friends and visitors who were treated to scrumptious feasts such as Roast Beef and Yorkshire Pudding, Roasted Leg of Lamb, English Trifle and many other British delicacies.  Her baking skills were phenomenal and put on full display each Christmas season when Margaret could be found in the kitchen, up to her ears in flour, creating her beautiful Yule logs that Roland then delivered to friends and neighbors on Christmas Eve.  Even up to her last years, she enjoyed hosting ladies' luncheons and afternoon teas for her friends; including homemade scones, jam, cream and, of course, always a hot pot of English tea!
Margaret's other passions were knitting sweaters for newborn babies, prayer shawls for those in need of comfort and creating one-of-a-kind outfits for the numerous Teddy bears she came to acquire.
She was a devoted member of St. James Episcopal Church from the day she moved to town and was involved with the Altar Guild and Choir for many years.  At St. James, she and Roland met many people who would turn out to be very dear friends and who helped Margaret and Roland create a life-long home in West Bend.
Margaret attended secretarial school in Sheffield after World War II and held positions in banks, insurance companies and for physicians.  Before retiring in 1992, Margaret worked for many years as secretary to the Assistant Administrator and eventually the Administrator of the Samaritan Home.  Margaret was also a member of Musical Masquers where her help was invaluable to her husband during the many plays and musicals he produced.  Margaret was always willing to help wherever it was needed; from creating costumes, to working in the makeup room to being a part of the chorus in My Fair Lady and Hello Dolly!
Her family was always Margaret's number one priority and her world was made even brighter by the arrival of her first grandchild in 1981.  She was blessed with three beautiful grandchildren; Sara, Adam and Lucas.  In addition, two adoring step-grandchildren, Megan and Jacob were added to her loving fold. She was also blessed with two great-grandsons and one great-granddaughter.
Margaret was greeted at heaven's door by her adoring husband, Roland, mother and father, Albert and Nellie Rogers, brothers-in-law, Graham Gibbs and Thomas Cooper, grandparents and other close relatives.
She is survived and her life celebrated by her son, Philip (Ann) Markey of Franksville, Wisconsin; her daughter, Julie (Terry) Becker of Fond du Lac, Wisconsin; her two sisters, June Gibbs and Sharron Cooper of Sheffield, England; her grandchildren, Sara (Russell) Brown of Appleton, WI, Adam Stoffel of Seattle, WA, Lucas Stoffel of West Bend, WI, Megan (Jason) Blonigen of Fond du Lac, Wisconsin, and Jacob (Michael) Becker-Lopez of Davenport, FL; great-grandchildren, Jacob, Isaac and Moxie, many nieces, nephews, other relatives and friends.
Margaret's family will be forever grateful for the close friendships of so many who were always willing to do whatever it took to make Margaret happy, even those times when she wasn't sure herself what she needed.  While there are too many to name, the family would like to especially thank Kathy Kuester, our angel here on Earth, Margaret's goddaughter, Jan Riordan and dear friends Mim Radcliffe, Jane Fellenz, Sandy Chessare and Theresa Stoffel.  You ladies are all so beautiful and we thank you with all our hearts for being such special friends!
A private family service at St. James Episcopal Church will be held. / Following the service, Margaret's remains will be inurned with her husband's at St. James Columbarium.
In lieu of flowers, please consider a donation to St. James Episcopal Church or the animal welfare agency of your choice.
Please consider signing our online guest book (www.myrhum-patten.com) to share your condolences with the family. Cards addressed to the family may be sent in care of: Myrhum – Patten Funeral and Cremation Service, 1315 W. Washington Street, West Bend, WI 53095.