Washington County, WI – The Museum of Wisconsin Art, 705 Veterans Avenue, West Bend, WI, presents artist Marion Coffey's "The Art of Color" exhibition from May 7 through July 10, 2022.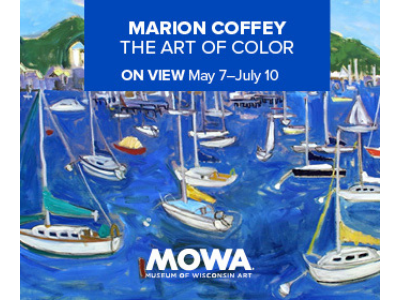 Working rather quietly throughout a long life that successfully balanced home and professional career, Marion Coffey (1924–2011, née Kunzelmann) created an impressive body of rich, dazzling paintings in acrylic and oil on both canvas and large sheets of paper torn by hand.
The legacy she left is substantial: landscapes and harbors, flowers and interiors, cityscapes, occasionally figures, and even a series of abstracted American flags. Coffey translated her experience as a pioneering female commercial artist in Chicago and later in Milwaukee into a sophisticated vision that was imbued with a deep understanding of European and American precedents.
Read more about Marion Coffey HERE.
The exhibit is free to members. Did you know…you can become a member for only $15. Read more HERE.
Information about hours and entrance fees may be found HERE.