Memorial Service and visitation today for Janet Flasch, 76, of West Bend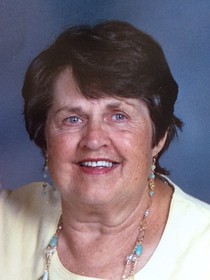 June 3, 2017 – West Bend, WI – Janet Flasch (nee Nehrbass), age 76, passed away peacefully surrounded by family on Saturday, May 27, 2017. She was born on January 30, 1941 in Cedarburg, WI to Peter and Dolores (nee Weiss) Nehrbass.
She married the love of her life, Robert Flasch on January 31, 1959.
Janet proudly worked for the West Bend Company for over 25 years.  In addition, she helped her husband and daughters with their businesses, supporting all their endeavors.
Janet loved flowers and took great care of her many beautiful flower beds.  Like her father, she was an avid fan of both the Packers and the Brewers.
While she deeply loved her entire family, Janet's grandchildren were the lights of her life.  Her loving spirit and gracious demeanor were infectious.  A wonderful wife, mother, grandmother, sister and friend, she will be incredibly missed.
Janet is survived by her loving husband, Bob; children Pamela Flasch, Sandra (Dennis) Anderson, Susan (Russ) Krueger, Amy (Stan) Maertz, Janelle (Kamil) Maghsadi; Oliver; grandchildren Michael (Kim Strupp) Anderson, Dustin Anderson, Robert, Maxwell and Braden Maertz, Karen (Peter) Graf, Kayla and Jarrett Mapes, Yasmin and Alexander Maghsadi; great-grandchildren Quintin and Leightin Graf, Killian Anderson; siblings Janine (Richard) Stoffel, Jerry (Nancy) Nehrbass, Joel (Linda) Nehrbass, Julianne (David) Witte; siblings-in-law Carol Nehrbass, Grace Flasch, Adeline Flasch, and Richard Slavik; She is further survived by nieces, nephews, other relatives and friends.
Janet is preceded in death by her parents, brother James Nehrbass, parents-in-law Kilian and Gertrude Flasch, siblings-in-law John "Woody" (Florence, Sue), Roland (Marion), Willmer, Gregor, Leonard, Peter and Raymond Flasch, Clarisy (Leo) Lennartz, Paula (Frank Oresnik, John) Leitner and Joan Slavik.
A Memorial Service will be at 1 p.m. on Saturday, June 3, 2017 at the Phillip Funeral Home Chapel (1420 W. Paradise Dr. West Bend. WI 53095). Visitation will be at the funeral home from 10 a.m. until the time of the service (1:00PM).
A special thank you to Heartland Hospice RN's Ann and Marcie and the staff at the Pavilion.