January 5, 2021 – Hartford, WI – The Millstream Building, 120-122 N. Main Street, in downtown Hartford has sold.
Bill and Ane Ohm of Hartford purchased the building December 4, 2020.
"We were attracted to the property for several reasons including the history and the price was right," said Bill Ohm. "The last owner listed the property in August 2020 for $249,000."
Ohm did not disclose the purchase price but said, "We got it for less than that."
The building, which dates to 1886, according to Ohm, is in a "good structural state."
"It is in the floodplain but the walls in the lower level are not going anywhere," Ohm said. "There's a wall in the basement that's 2 to 3-feet thick and it has held its place for over a century."
Historically the building has been home to an indoor golf facility in 1927, a funeral parlor, Saga Travel and the upper level was once the Eagles Club. "They owned the building from just after WWII to the 1970s," said Ohm.
There was also a meat locker in the building. "You could buy fresh or frozen meats and then store it there," Ohm said. "They had 227 rentable lockers and it was called Artic Circle."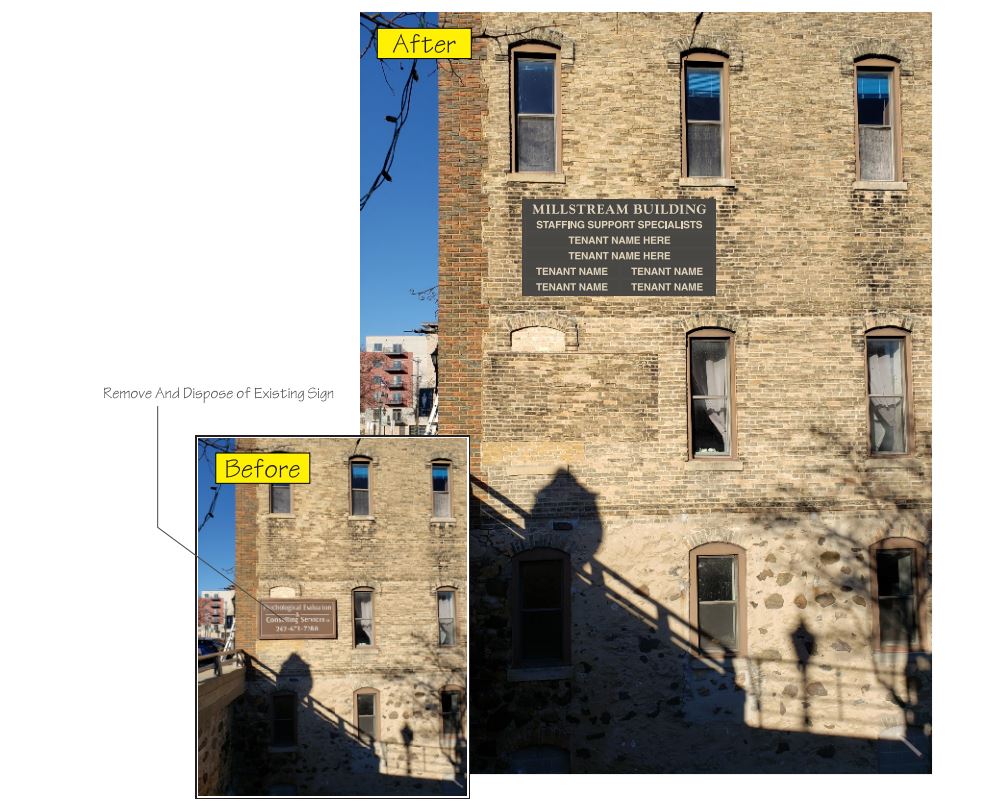 Moving forward Ane Ohm will be occupying the renovated upper level with her business, Staffing Support Specialists, currently on Highway 83 in the Town of Hartford across from the movie theatre.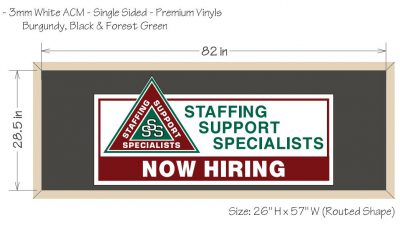 "We're exploring our options for the rest," said Bill Ohm.
In 2016 the City of Hartford came up with a strategic development plan and the Millstream Building was part of the design to "fill empty storefronts, kick-start development and advance Downtown Hartford."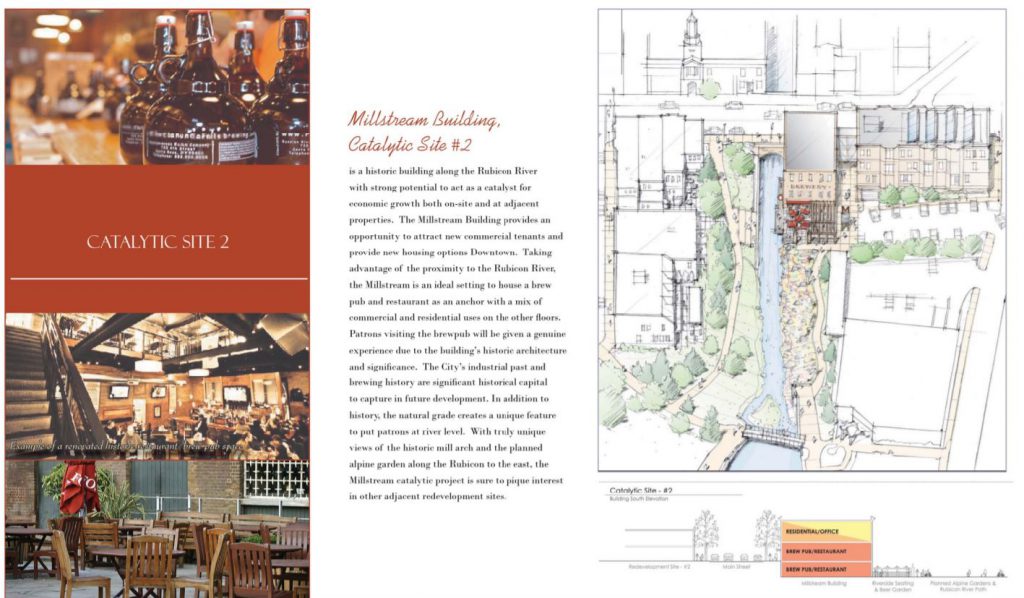 The plan for the Millstream Building focused on development of a restaurant / brew pub on the lower level with an outdoor patio along the creek and residential above.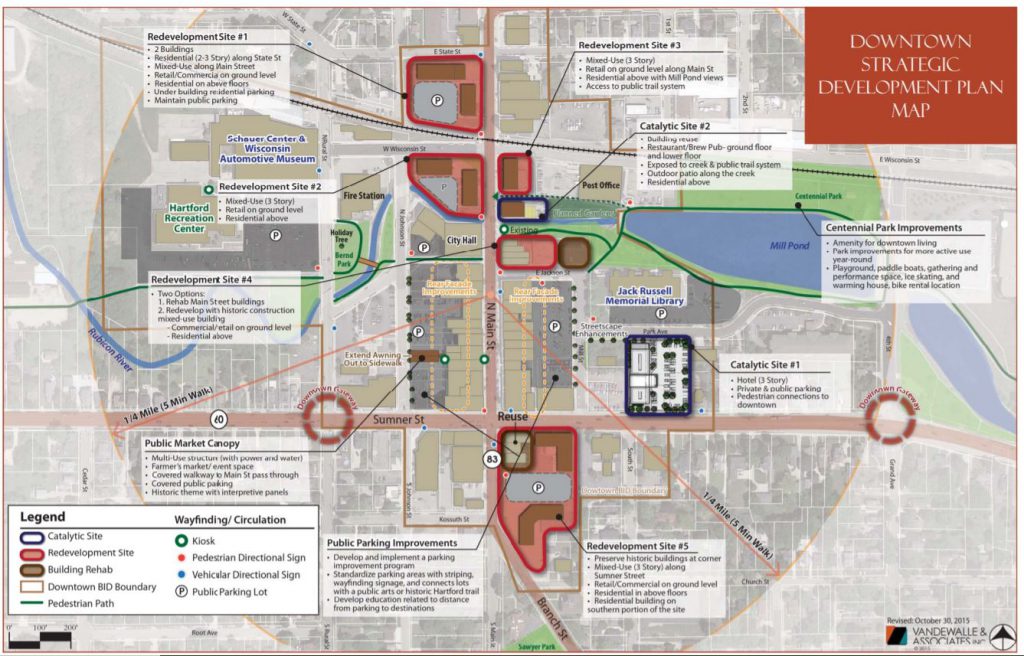 "That is one of the things we're definitely looking at but nothing to report yet," said Ohm.
There are currently two tenants in the building on the Main Street level with a hair and nail salon and a photography studio.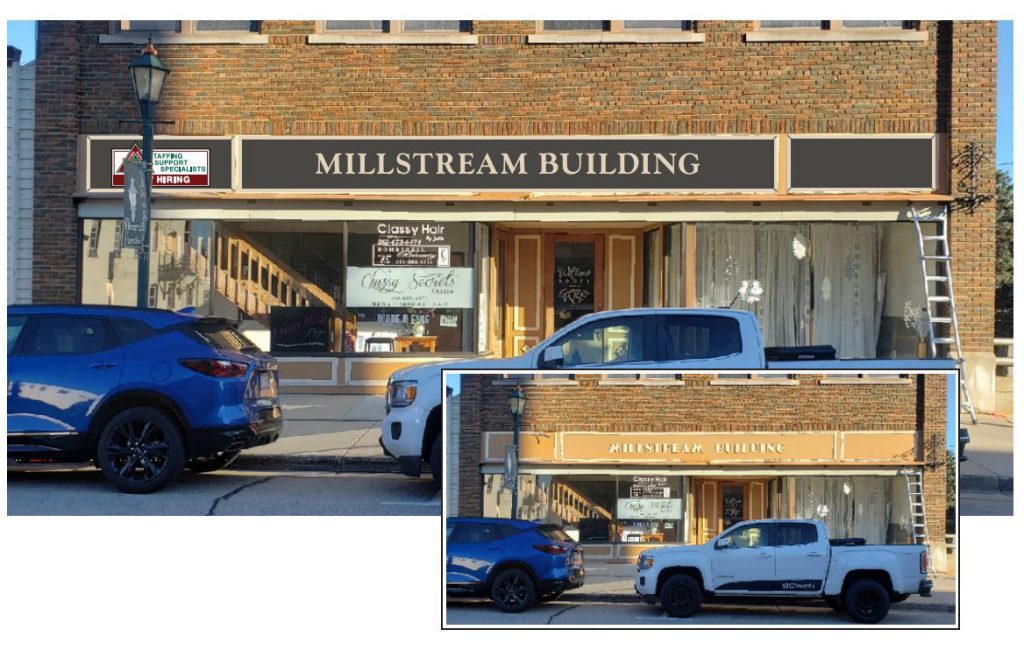 The above photos include signage changes set to come before the Hartford Plan Commission later this month.