Mother Nature throws a curve this spring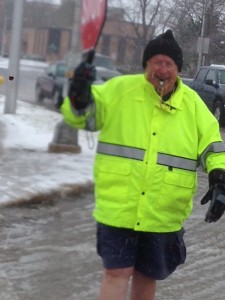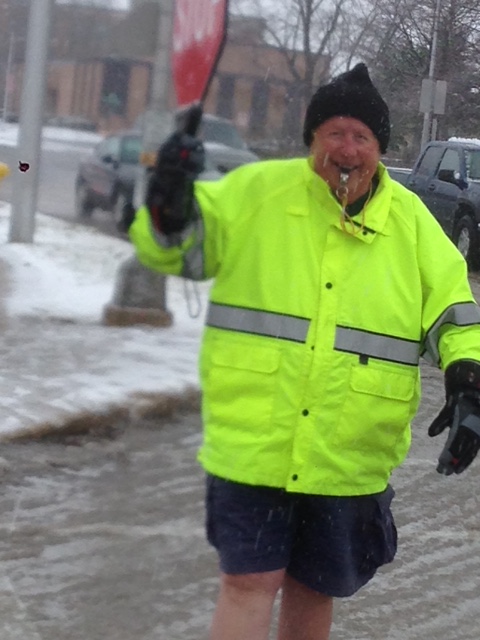 The robins are flitting around the late winter white saying "What are this?" The hearty purple crocus are pushing their faces through the heavy blanket of ice and Chucky Fellenz wife shakes her head as her little boy leaves the house in a fluorescent lime green jacket, hat and shorts.
"I put my pants away three weeks ago," said Fellenz with confidence. "I just had a lady roll down her window and yell at me. I hollered back 'I'm not cold.'"
Fellenz has been working the corner of Decorah and Main as a crossing guard in West Bend for more than a dozen years and he's not gonna let Mother Nature tell him what for.
On Wednesday afternoon school kids ducked their heads as they braced against the pelting rain. Traffic moved slowly as windshield wipers pushed away the heavy, damp snow and Fellenz knew enough to stay 2-feet back from the curb.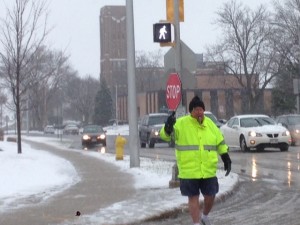 "These cars come along and they hit that puddle and the water carries up over in a good slosh," he said.
White chicken legs exposed to the elements, Fellenz gives a sharp blow to his whistle, lifts his stop sign and safely crosses students to the opposite side of Main Street.
He dances back up to the sidewalk, his white tennis shoes soaked. He's a poster boy for every mother's winter-wardrobe nightmare.
"My wife bought me a pair of heated gloves," he said. "I got them on low. Put your hand in here.
"My ears may get a little cold, but the rest of me is just fine."
The National Weather Service is calling for temps to remain in the mid-40s with a bit more precipitation on tap Saturday and cloudy skies a high of 46 on Easter Sunday.  Monday we could see sun and 50s – possibly 59 by Tuesday.