Museum of Wisconsin Art receives two marketing grants to drive summer tourism | By Jessica Wildes
May 2, 2019 – West Bend, WI – In advance of National Travel and Tourism Week (May 5–11, 2019), the Museum of Wisconsin Art (MOWA) is pleased to announce the awarding of two unique marketing grants—one from the Wisconsin Department of Tourism (DOT) and one from the City of West Bend Tourism Commission—dedicated to driving tourism to its special summer exhibition and related programs, and to Art & Chalk Fest.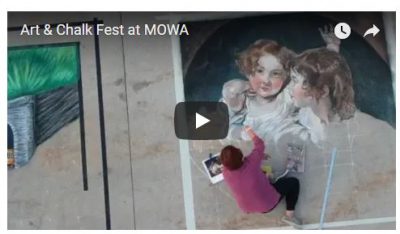 The DOT Joint Effort Marketing (JEM) Grant Program offers funding and guidance to make an event come to fruition. The grant reimburses Wisconsin non-profit organizations for qualified advertising costs. In January, MOWA submitted a comprehensive application for the Among the Wonders of the Dells: Photography, Place, Tourism exhibition and related activities. Upon final awarding, the DOT noted there was three times the amount of funding requested than able to be awarded and MOWA's grant was approved at a total of $22,600.00.
JEM funding will be allocated to advertising and promotional expenses through an integrated marketing communications (IMC) program beginning in April and running through early September. The IMC program will target visitors from within a 250-mile radius of the museum, encouraging day trips and overnight stays in West Bend hotels. Prominent placements in top-tier Wisconsin and regional publications, media outlets, and newspapers will reach a high volume of target audience groups. The program will include a mix of digital, print, social media, television, and radio placements along with public relations, direct mail and HTML email, and an interactive storytelling campaign that invites the public to share their Dells memories online using the hashtag #mydells.
"The summer exhibition will explore how the Dells went from natural wonder to "Waterpark Capital of the World." It will feature more than 100 photographs from eight artists recounting its fascinating history and transformation," said MOWA CEO | Executive Director Laurie Winters. "From the great nineteenth-century photographer H. H. Bennett to three contemporary Wisconsin photographers we commissioned to spend a year photographing the Dells from their own unique perspectives, this exhibition is unprecedented."
In addition to exhibition marketing, MOWA submitted an application in March for the City of West Bend Spring/Summer Tourism Promotion Grant for Art & Chalk Fest 2019. The Tourism Commission awarded the museum $12,500 toward marketing expenditures for this new and growing event, which garnered more than 20,000 visitors last year. The Tourism Commission also awarded an additional $7,500 to other local non-profit tourism entities, including Casa Guadalupe, Habitat for Humanity, and Washington County Historical Society.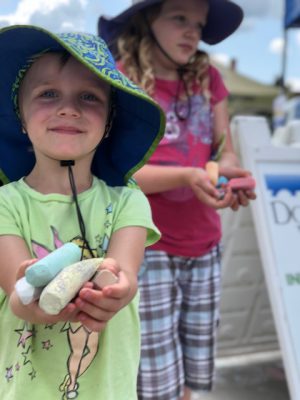 MOWA's Art & Chalk Fest is a celebratory weekend of art and an opportunity to feature all that West Bend has to offer. The festival takes place on the museum campus and Veterans Avenue on July 27–28, 2019. It has quickly become one of the largest art festivals in the state and the largest single weekend event in the city of West Bend. The festival is a destination for travelers from throughout the state and Midwest and gateway to further exploration of West Bend. Art & Chalk Fest features:
15 chalk artists from across the nation developing chalk art masterpieces
A juried selection 65 fine artist vendors selling their work
Art activities for all ages
Live music and entertainment
Food vendors and a beer garden
Free admission to the museum and festival
"MOWA is dedicated to bringing travelers not only to the museum but to the entire community. West Bend has so much to offer. There are fantastic parks and trails, shops, restaurants, and activities," said MOWA Director of Communications | Marketing Jessica Wildes. "We are especially excited to see the Riverwalk project come together in time for spring and summer visitors to fully explore downtown and our new MOWA Gardens."
MOWA's impact on the City of West Bend has intensified year-over-year with its striking new building, inclusive membership philosophy, and leadership team since 2013. Attendance and memberships have increased dramatically over the last six consecutive years. In 2018, attendance surpassed 50,000 visitors for the first time. Using the 2017 Longwood International research study provided by the DOT, MOWA estimates its 2018 economic impact on West Bend at more than $2.5 million.
Learn more about MOWA's upcoming exhibitions and special events at wisconsinart.org.
###
ABOUT THE MUSEUM OF WISCONSIN ART
Everyone's a member at the Museum of Wisconsin Art (MOWA). The concept is rather simple: welcome everyone to the museum as a member. It's a model that defies the idea that museums are exclusive or elitist. Instead, museum admission fees are actually low-cost memberships that allow unlimited access to the museum for a full year.  This philosophy encourages frequent participation in 18 rotating exhibitions and 175+ free-for-member programs that take place throughout the year. The result is a welcoming and engaged community—a community where everyone is a member.
MOWA explores the art and culture of Wisconsin. Founded in 1961, the museum's permanent collection consists of over 5,000 works of contemporary and historic art by more than 350 Wisconsin artists. The 32,000-square-foot wedge-shaped structure opened in 2013 and houses five permanent collection galleries and four temporary exhibition spaces, as well as classrooms, visible art storage, a shop, and a large atrium for public events.
The museum overlooks the Milwaukee River and is situated along the Eisenbahn State Trail. In 2018, the
surrounding four-acre green spaces transformed into spectacularly landscaped gardens. The MOWA Gardens feature a tree-lined field for activities and festivals, 800 quaking aspen trees, 1,200 hydrangea plants, several outdoor sculptures, and interconnected walkways perfect for wayfinding or meandering to nearby shops and restaurants. It's a must-see destination in the heart of downtown West Bend.