National Guard Blackhawk crew from West Bend receives recognition for rescuing kayakers last fall | By Capt. Joe Trovato
Feb. 6, 2019 – Fond du Lac, WI – The crew of a Wisconsin Army National Guard UH-60 Blackhawk that rescued two kayakers stranded in a marsh near Fond du Lac last fall received a major award from the Army Aviation Association of America at Fort Rucker, Alabama, Jan. 30.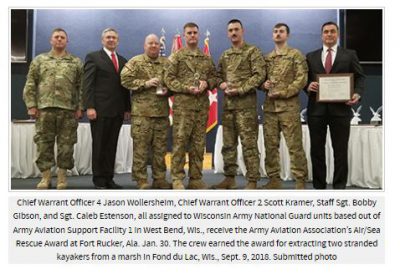 Chief Warrant Officer 4 Jason Wollersheim, Chief Warrant Officer 2 Scott Kramer, Staff Sgt. Robert Gibson, and Sgt. Caleb Estenson, all received the Army Aviation Association of America's Air/Sea Rescue Award.
The four West Bend-based Soldiers responded Sept. 9 to a request for assistance from local rescue crews attempting to reach two kayakers that lost their way in a thick marsh and reached the point of exhaustion. The isolated nature of the marsh and its terrain made a land rescue nearly impossible, prompting local rescue crews to reach out to Wisconsin Emergency Management to seek assistance.
The Wisconsin National Guard was ready and within 90 minutes of receiving the call, had a helicopter in the air. Fifteen minutes later, the crew was hovering over the Eldorado Marsh searching for the wayward kayakers, who had cell phone contact with rescue crews on the ground. With sunlight quickly diminishing and the kayakers stranded in a dark marsh, the crew asked first responders to relay a message to the kayakers to turn on their cell phone flashlight, which, thanks to their night vision goggles, immediately pinpointed the kayakers' location.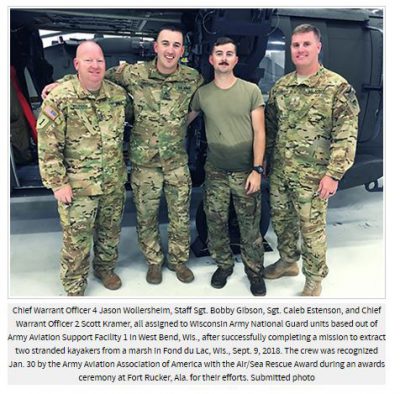 Within minutes, a crew chief was descending into the marsh via the helicopter's hoist system to retrieve the stranded men and bring them back to safety. The situation could have grown precarious quickly, given that the two kayakers were wet, exhausted and temperatures dropped into the 40s that early fall evening.
"Their training, experience and quick thinking enabled them to successfully conduct a very demanding mission on short notice, saving the two kayakers from a potentially life threatening situation once land and boat rescue efforts by civilian authorities failed," the award citation read. "Their dedication to fellow citizens and willingness to volunteer on short notice for a hazardous rescue mission reflects great credit upon themselves, the Wisconsin Army National Guard, and the United States Army."
Brig. Gen. Joane Mathews, Wisconsin's deputy adjutant general for Army, travelled to Fort Rucker, along with Command Sgt. Maj. Rafael Conde, the Wisconsin Army National Guard's senior enlisted advisor, to witness the award presentation.
"It was an extremely proud moment for me, knowing these brave and highly professional Soldiers were from the Wisconsin Army National Guard," Mathews, herself a former helicopter pilot, said. "This crew deserves this recognition for their heroic actions to rescue their fellow citizens. Responding here at home is one of the core missions of the National Guard, and having the opportunity to apply the skills we gain preparing for our federal overseas mission to make a difference locally is truly rewarding."
The crew was highly experienced. Three of the four crew members aboard the rescue flight – Estenson, Kramer, and Wollersheim – had returned from deployments to Afghanistan less than a year before the incident where they flew rescue missions in support of U.S. and Afghan special forces and U.S. Marines. The fourth – Gibson – had returned from a deployment to Kuwait less than two years prior and deployed to the U.S. Virgin Islands in support of Hurricane Maria relief in 2017.
Estenson, who had the task of descending into the marsh that evening, said it was an honor to get recognized but said the most rewarding part of the experience was making a difference in his local community and doing his job.
"It's cool to be able to do a rescue in our backyard," he said. "I live in Fond du Lac and that rescue was maybe a 10-minute drive from my house. We go overseas all the time and do missions over there. I just got back from Afghanistan, but to be able to help locals at the same time is really rewarding."
"It's what we train to do as medevac," said Estenson, who also volunteers with the Town of Fond du Lac Fire Department. "We do training flights and things like that, but to actually do your job. That's why we have the red crosses on the side, because we're here to save people."
The other crew members agreed, including Gibson, who said receiving the award was an unexpected honor.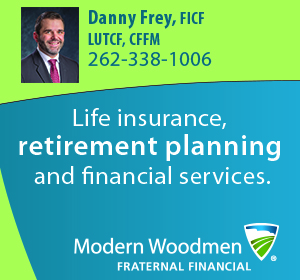 "It's really special that we were able to be a part of that, because that truly is the epitome of what the National Guard aims to do – to help not only the country but also the communities we grew up in and live in currently," he said. "It's really great that we were able to do that and truly live up to what everyone hopes to do when they join the National Guard."
"It's great that we were given that award, and we were all honored to be a part of that whole scenario that played out, but what it comes down to at the end of the day is we're just here doing our jobs like everyone else," Gibson added. "So while the accolades are great, this is something that myself, and I'm fairly certain anyone else in the group would say that they'd be part of again at the drop of a hat."
Wollersheim agreed.
"It's great being recognized," he said. "You don't really expect it, because you just do the mission when it comes, and you don't really expect anything above and beyond that, so it's great to be recognized."