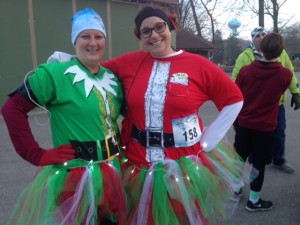 Fantastic family fun during the inaugural Husar's Diamond Dash held Sunday at Enchantment in the Park.
Tim Zellmer, 23, of Elm Grove finished in first place (15:37) and Sue Miller, 41, of West Bend was the first woman to cross the finish at 19:23.
En Fuego got everyone warmed up with a bit of zumba to Mariah Carey prior to the start of the 5K which made three laps through the lights of Enchament in the Park.
Complete race results are at http://georesults.racemine.com/…/Husars-Diamond-Dash/results
On a side note:
– West Bend Police Chief Ken Meuler was spotted running the dash in shorts. The weather was pretty accommodating for Dec. 6. Meuler finished in 27:53; fourth in his age group.
-As the race continued the course became more beautiful as the lights of Enchantment grew brighter in the dark.
-My niece Audrey, 13, ran the race with me. She beat me by a solid four minutes, 25:15, to my 29:04. I remember years ago when Audrey and her siblings ran their first triathlon with me. Her sister Lucy swam, with a noodle. Audrey rode the tandem and we stopped at the top of a hill for a snack. (Because when you're racing a tri it's all about the snack.) And her 2-year-old brother Henry was still in a stroller and we tackled the run together.
-Money raised during the Diamond Dash benefited the Full Shelf Food Pantry.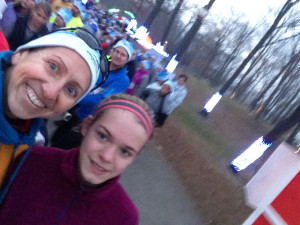 – I overdressed (as usual) for the run. My niece exited the car and said, "No offense, but you look funny," commenting on my spandex. A bit later she said, "No offense, I can see your bottom jiggling in those pants." I got down to eye level and said, "No offense – the next time you say that, you ask me if I want a hamburger with that shake."