March 30, 2021 – Germantown, Wi – The Germantown Warhawks announced Nicolas "Nico" Palacio as the new Head Coach of the Boys Varsity Tennis team.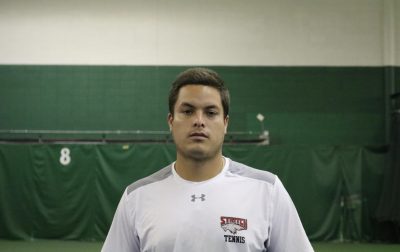 Palacio's resume includes coaching alongside tennis star Andres Gomez in Ecuador and working under well-known local Rick Vetter's team at Elite Sports Club in Glendale. Palacio was ranked No. 2 in the National Association of Intercollegiate Athletics (NAIA) doubles in competition and No. 3 in NAIA as a team, while also being recently ranked in the top 3 for Ecuadorian men's tennis singles.
A 2020 graduate of Cardinal Stritch University, Palacio excelled in both the classroom and athletic field, receiving both athletic and academic scholarships. His college coach said, "Nicolas is the most loyal, hardworking, and selfless player I have had in my 10 years of coaching.  He was one of the big reasons we have had so much success as a team, including multiple conference championships following his arrival and a top three national ranking."
Players previously under Palacio's guidance have spoken volumes of his abilities to make them not just better players, but better people too, a true asset that encapsulates what a high school sports coach should be.
Although Germantown has had 11 individuals qualify and play in the WIAA Boys' Tennis State Tournament in solo and doubles competition over the years, the most recent being Drew Van Fossen in 2019, the team itself has not reached the state tournament.
Combine that with the fact none of the aforementioned 11 individuals won their respective state tournaments (despite one state runner-up with Ben Wait/Eric Stodola in 2014 doubles play), it's clear coach Palacio has an interesting challenge ahead of him in his first head coaching job. The 2021 Boys Tennis season begins on May 3.
Congratulations coach Palacio and the Germantown School District on this new hire.