Obit: Alan Stoffel, 88, Kewaskum. A life-long farmer, Alan ran the projector at the Kewaskum Theater for many years for the Friday and Sunday Matinees.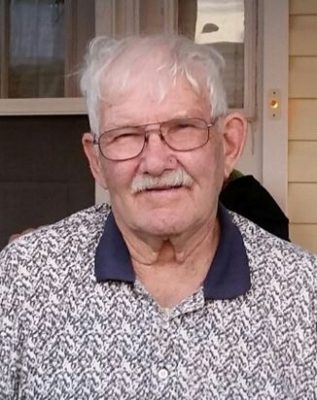 Dec. 26, 2016 – Kewaskum, WI – Alan L. Stoffel, 88, of Kewaskum, entered eternal life on Thursday, December 22, 2016, at his winter home in Clermont, FL, where he was rejoined with his loving wife Margaret.
Alan was born on August 7, 1928, in Kewaskum, the son of the late Nicholas and Odelia (nee Marx) Stoffel.  He graduated from Kewaskum High School and it was here that he met the love of his life Margaret "Peggy" Wink.   Alan was united in marriage to Peggy on May 30, 1951, at Holy Trinity Catholic Church in Kewaskum.  They were able to enjoy 64 wonderful years of marriage together.   Peggy preceded Alan in death on August 11, 2015.
Alan enjoyed the little things in life the most.  He was seen by many as a man of good faith who's family mattered most to him.  Alan was a lifelong farmer but also loved to repair and sell T.V.s and radios.  At one time he even owned his own microwave assembly business.  He was seen by many as a Mr. Fix It, Alan could fix almost anything mechanical which lead to many of the friendships he still had today.  Alan also ran the projector at the Kewaskum Theater for many years for both the Friday and Sunday Matinees.   He was an outstanding figure skater, spinning and gliding with his wife on the Milwaukee River.
Through the years Alan and Peggy were blessed with eight children.  After all eight children reached adulthood Peggy and Alan enjoyed the freedom of travel, especially their winters spent in Clermont, Florida.  There they could socialize with many friends both old and new.
Those Alan leaves behind to cherish his memory include seven children, Michael (Genny Gillham) Stoffel of Madison, Neal (Denise) Stoffel of Ashford, Paul (Joanne) Stoffel of Madison, Philip (Janis) Stoffel of Kewaskum, Therese (Dale) Schloemer of West Bend, Chris (Lisa) Stoffel of Kewaskum and Sara Konkel of Elkhorn; a daughter-in-law, Joan Stoffel of Campbellsport; 23 grandchildren, Scott, Jenny (Jason), Peter, Miles, Rebecca (John), Jacob (Sarah), Owen (Meg), Angela (Tim), Jonathan (fiancé Clara), Ryan, Andrea (Kai-Biu), Laura, Stephen, James, Brenda (Jason), Brian (Theresa), Brittany (Jeremiah), Bridget (James), Patricia (Paul), Catherine (Amber), Rachell, Heather and Derek; 19 great-grandchildren, Ella, Easton, Zachary, McKenzie, Elijah, Jackson, Cole, Lyla Rose, Julian, Ivy, Jaden, Emma, Claire, Sydney, April, Milo, Payton, Callie, Charles and two on the way; a sister, Dolores DuPont of Tennessee; 2 sisters-in-law, Evelyn (Gunther) Bruckner of Cedarburg and Beverly Wink of South Milwaukee; friends, Linda and Adam, many nieces, nephews, other relatives and friends.
In addition to his wife and parents, Alan was preceded in death by a son, Zachary Stoffel; a great-grandson, Isaiah Van Beek; a brother, Gerald Stoffel; a sister, Harriet (John) Stellpflug; two sisters-in-law, Marty Stoffel and Ruth Stoffel and two brothers-in-law, James Wink and Robert DuPont.
A Memorial Mass for Alan will be held at 5 p.m. on Wednesday, January 4, 2017, at Holy Trinity Catholic Church, 331 Main St, in Kewaskum with Rev. Edwin Kornath officiating.
The Stoffel family will greet relatives and friends at the church on Wednesday from 3:00 p.m. until the time of Mass.
In lieu of flowers, memorials to the family are appreciated which will be used for a memorial donation in Alan's memory.
The Stoffel family would like to extend their heartfelt appreciation to Alan's friends in Florida and Wisconsin for the care and compassion they showed Alan.
Matthew 25: 23 Well done, good and faithful servant!