Obit: Allen "Al" Staehler, 62, Kewaskum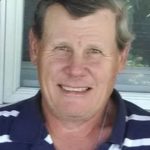 Allen "Al" Richard Staehler died unexpectedly on Friday, September 16, 2016 in the afternoon. He was 62 years old.
Allen R. Staehler was born on May 23, 1954 in West Bend, Wisconsin. He was the third son to Roman and Regina Staehler.  Allen lived in Kewaskum, Wisconsin on the family dairy farm all of his life.  He dedicated himself to taking care of the farm. Allen attended grade school at Holy Trinity and graduated from Kewaskum High School. He belonged to Holy Trinity Church in Kewaskum, Wisconsin and was a devote Catholic, who cared deeply about his faith. Allen's sense of humor, simple nature and love for God is best remembered. Allen prayed the Rosary every night and mostly watched EWTN, but also enjoyed watching the Packers, NASCAR, and Brewers. He also liked watching ME TV, the Andy Griffith Show and The Lone Ranger. He was an active member of the Knights of Columbus. He was generous in donating to various charities.
Allen resided with his parents and helped with the farm. He felt that was his calling in life. He never married and was a very shy, quiet man. After his father passed away, he was left in charge of the farm and taking care of his mother. He devoted his life to the farm and taking care of others. Despite the challenges and struggles of everyday life, Allen was content with his life and thankful for what he was given.
In 2006, Allen agreed to the new construction of a home which he shared with his nephew, Brian. In the comforts of this home, Allen was able to have his own private living quarters. He was so thankful to be warm in the winter and able to cool off from the summer heat, a luxury the original farm house could not provide. He was also able to closely share in the love of Brian's family, which included Brian's wife, Lesa and their 2 children, Hannah and Cole. Although Allen never married and had children, he soon took on the role of not only an uncle, but a parent and grandparent to Brian's family.  His love was always unconditional and genuine. Hannah and Cole adored him. Allen was a blessing to Brian's family.
Allen enjoyed going to visit his nephew, Kevin, in North Carolina. He rarely left Kewaskum, so this provided him with a new experience and a break from farming. He was excited to visit NASCAR and other sites with Kevin's family. Allen also enjoyed visits from his family and friends. They were sure to put a smile on his face.  He appreciated the times his great nephews, Collin and Taylor, would come help him on the farm.
Allen is survived by his farm dog, Tasha, and two brothers, John (Karen) Staehler and Tom (Pat) Staehler and nieces and nephews Deb (special friend Joel), Rick (Kristin), Troy (Shelly), Brian (Lesa), Kevin (Tamara), Nick (special friend Mandie) and Katie (Andy).  Also, he is succeeded by many great nieces and nephews, Collin, Taylor, Maya, Ava, Hannah, Maggie, Cole, Sydney, Noah, Riley, Adalyn, Nia, James, and Ava.
Allen was preceded in death by his loving parents, Roman and Regina and their faithful farm dog, Harley.
A Mass of Christian Burial for Allen will be held at 11:00 a.m. on Friday, September 23, 2016, at Holy Trinity Catholic Church in Kewaskum with Rev. Edwin Kornath officiating.
Allen's family will greet relatives and friends at the church on Friday from 10:00 a.m. until the time of Mass.
In lieu of flowers, the family requests that donations be made to the Kewaskum Holy Trinity "Angel Fund".
A special thank you to the Kewaskum Rescue Squad, The Washington County Sheriff's Department and St. Joseph Community Hospital and their staff, along with Chaplain John and Fr. Edwin Kornath who responded to Allen's last needs along with family and friends.