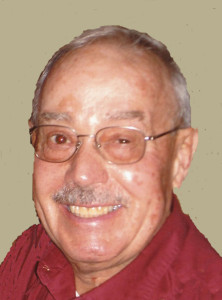 William "Bill" Lutz, 76 of West Bend, found peace on Monday, March 7, 2016 at Froedtert Hospital, Milwaukee.
He was born on December 28, 1939 to the late Milton and Lola (nee Reichart) Lutz in West Bend. After high school Bill married Joen Luecke, and they had 2 children, Rick and Lori. On October 14, 1979 he was united in marriage to Mary Schlefke at St. John's Lutheran Church, West Bend.
Bill worked at the West Bend Fire Department for over 25 years. He was a member of the Wisconsin Buck and Bear Club and the West Bend Roots and Branch. He was involved with the Action in Jackson for many years and with the West Bend German Fest for over 25 years. In 2012 he received the American Cross senior good Samaritan award. He enjoyed hunting and fishing. Bill loved to socialize and spend time with his family and grandchildren. He will be missed by all who knew him.
Those Bill leave behind to cherish his memory include his loving wife, Mary; four children, Richard (Gayleen) Lutz of Campbellsport, Lori (Jeff) Wendt of Fond du Lac, Deborah (Jon) Swenson of West Bend, and Robert (Stephanie) Konstanz of West Bend; nine grandchildren, Emily Lutz, Alex Lutz, Brayden Wendt, Kaillyn Wendt, Erik (Lauren) Swenson, Andrew Swenson; Jessica Swenson; Danielle Konstanz, and Nicholas Konstanz; one expecting great-granddaughter; brother-in-law, Ronald (Kathy) Schlefke; other relatives and friends.
In addition to his parents, he is preceded in death by his father and mother-in law Arthur (Irene) Schlefke; nephew, Scott Schlefke; and his former wife, Joen.
A funeral service in remembrance of Bill will be held on Friday, March 11, 2016 at 6:00 p.m. at St. John's Lutheran Church, 809 S. 6th Ave, West Bend.
The family will greet relatives and friends at the church Friday from 3:00 p.m. until the time of serve.
The family would like to thank Dr. Herdrich, Dr. Trivedi, Dr. Johnstone, Froedtert Cardiovascular ICU and 3SW staff for all their help and care.
The Myrhum Patten Miller & Kietzer Funeral Homes have been entrusted with Bill's arrangements. Additional information and guest book may be found at www.myrhum-patten.com