Obit: Donald V. "Don" Gehrke, 74, of Horicon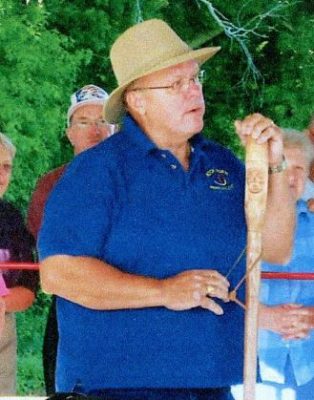 July 18, 2017 – Horicon, WI -Donald V. "Don" Gehrke passed away on Friday, July 14, 2017, at Marvin's Manor in Horicon.
Don was born on October 10, 1942, in Fond du Lac, to the late Victor and Josephine (nee Petrofsky) Gehrke.  He graduated from Dodgeland High school in 1961 and from Moraine Park Technical Institute in West Bend.  Don worked as a Machinist and Tool and Die Maker for 39 years at John Deere Horicon Works, retiring in 2001.
He then had more time for Rock River Archaeological Society and Mid America Geographic Foundation.  Don always loved the history of who was here before us in the Dodge County area.  He along with RRAS members, worked many fulfilling hours on the establishment of Nitschke Mounds County Park; while learning much from WI State Archeologists that worked on the park starting in 2003.
Don and his wife Pearl took many field trips throughout the Midwest and got to learn more with RRAS and MAGF.  He enjoyed RRAS's annual event at the DNR Education Center and getting the youth involved in corn grinding and fire starting while sharing Native American artifacts found in the Dodge County area.
Don made many friends and learned much from them about the Horicon Marsh History while sharing a few stories of his own.  When Donald M. Miescke wrote his book, Horicon Marsh History, Don was honored to contribute Chapter 3 titled Horicon Marsh Native American History.
A lot of camping was done with the Gehrke family with lots of stories told around the campfire.  Kohler Andrae State Park was also a favorite destination for the family.  Locations for family vacations were chosen based on historical interest and was educational in learning about Mother Nature.  Don was proud of his family and the close bond they shared.
Those Don leaves behind to cherish his memory include his wife of 53 years, Pearl; two children, Michael "Mike" (Heidi) Gehrke of Appleton and Julie (Tim) Cook of Waupun;  seven grandchildren, Aiden and Jordan Gehrke and Skylar and Payton VanDenBoom, Benjamin (Macy) Cook, Kaytee (fiancé Adam Gogert) Cook, and Ethan Cook; one great-grandchild, Kayden Gogert; a sister, JoAnn Gehrke of Beaver Dam; a brother, James "Jim" Gehrke of Wisconsin Dells, other relatives and many friends.
In addition to his parents, Don was preceded in death by a brother-in-law, Ted Wahlen and a sister-in-law, Lorna Adair.
A Mass of Christian Burial for Don will be held at noon on Wednesday, July 19, 2017, at Sacred Heart Catholic Church, 950 Washington St., in Horicon.  Rev. Michael Petrie will officiate and burial will follow at St. Malachy Cemetery.
The Gehrke family will greet relatives and friends at the church on Wednesday from 9 a.m. until the time of Mass.
In lieu of flowers, memorials to Sacred Heart Catholic Church or Agnesian Hospice Hope are appreciated.
The Gehrke family would like to extend their heartfelt appreciation to Agnesian Hospice Hope, especially Larry, Macy and Bill.
The Myrhum Patten Miller & Kietzer Funeral Homes have been entrusted with Don's arrangements.
As the last three sentences in Don's chapter state, "There is so much one can enjoy in life that has no cost but is priceless.  It is seeing and enjoying God's world that I have found.  Many before me have walked this land and found that peace."
About Author
Judy Steffes
First-run stories from a trusted reporter who has lived in West Bend/ Washington County for over 33 years. Business/faith/education/community/history/arts.