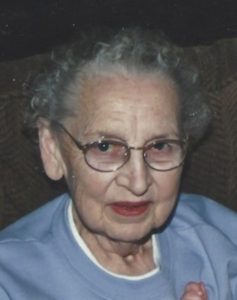 Doreen M. "Tooty" Werner, 83, of Fond du Lac went to her heavenly reward on Sunday, Sept. 11, 2016 at Grancare Nursing home in Fond du Lac with her beloved family gathered around her.  She was born in Fond du Lac on June 30, 1933, the daughter of Nels and Mary (Esser) Anderson.  On May 2, 1964, Doreen married Clarence Werner at St. Patrick's Church in Fond du Lac.  She worked at S. S. Kresge Variety Store for many years and was a member of Holy Family Parish.
Doreen is survived by her children Allen Werner of Madison, Todd (Beth) Werner of Oshkosh and Cheryl (Karl) Meyer of Fond du Lac, her granddaughter Lauren Werner, her sister Marion Snyder, nieces, nephews, other relatives and friends.
Preceding her in death were her parents, her husband Clarence, her brothers Lloyd and Lester Anderson and her sisters Rosella Hillebrand, Alice Hodoff, Lucille Newman, Elizabeth Krumbien and Dorothy Phillips.
Private family services will be held at Twohig Funeral Home, 305 Fond du Lac Ave., Fond du Lac.  Burial will follow at Ledgeview Memorial Park in Fond du Lac.