Obit: Gordon J. "Gordy" Schalla, 91, of West Bend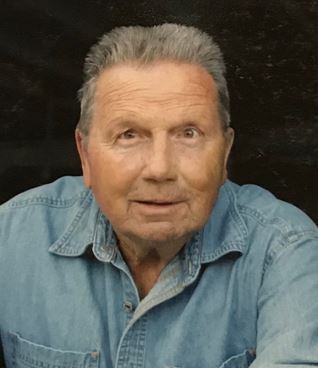 Nov. 1, 2017 – West Bend, WI – Gordon J. "Gordy" Schalla, 91, of West Bend, ended his earthly life on Saturday, October 28, 2017, at Serenity Villa in Slinger and now is on a heavenly journey.
Gordon was born on July 19, 1926, in Milwaukee, the son of the late Joseph and Myrtle (nee Rosenfeldt) Schalla. Gordon honorably served in the United States Navy having served aboard the US Bunker Hill.
He was united in marriage to Billie Courier on February 21, 1953, at North Presbyterian Church in Milwaukee. Gordon was a licensed watchmaker by trade and graduated from the Kansas City School of Watchmaking. He had four Jewelry stores, one on Hampton Ave. and one on Villard Ave. in North Milwaukee, Manchester Mall in Grafton, and lastly on Main St. in Cedarburg. Gordon was on the National Jewelry Board for ten years traveling to yearly meetings in New York City and lobbying in Washington DC.
He had 100 acres that comprised the Shady Schalla Farm. He raised sheep primarily, but also a pony, a horse, Black Angus, and exotic pheasants. Gordon loved to raise dahlias. Riding on "Big Red" the tractor was the love of his life. Being a 4-H family for years, he exhibited photography, crops, and his children and great-grandchildren showed sheep at the County Fair. He also sold sheep and maple syrup and apple cider that he made.
Gordon was a member of the North Milwaukee Kiwanis Club, as a member he worked with the MSOE Key Club for ten years by sponsoring foreign students. He also was a member of the Nation Jewelers association for ten years and the Museum of Wisconsin Art, where he exhibited his photography yearly. Gordon was published in four of the American Photographers at the Turn of the Century tabletop books, and The Great Lakes Ozaukee County Chapter, his 26 foot boat "The Cracker Box" filled his love of fishing.
Hunting played a big part of his life especially on the farm, Canada, and Alaska. Being a member of the Newburg Sportsmen's Club gave him an outlet for his love of Archery. For years he also sponsored the Clay shooting team at the Sportsman Club. As a senior, he competed internationally in archery, and at one time held first place in his age group in Wisconsin and Illinois. Gordon was also a Master Swimmer, voted top swimmer by his peers. He was also a member of the YMCA, going for his swim practices. Gordon was also a member of the Patti Diver's Organization going on many happy vacations. Mailing was a major part of his time with the Habitat for Humanity Organization. Gordon loved traveling with his family going on the Pan American Highway from Alaska to the end of South America over three years. Gordon has traveled to every continent in the world. Gordon was also a collector of everything from his coin collection, stamps, photos, gems, and anything else you can think of. He was a member of Cross Roads Presbyterian Church in Thiensville and loved to be a greeter and usher. Gordon enjoyed using his life for learning, caring, and adventuring, as the saying goes he was a great guy! He will be dearly missed by all who knew him.
Those Gordon leaves behind to cherish his memory include the love of his life and wife for 64 years, Billie; three children, Garry Schalla of Carbondale, CO, Larry (Susan) Schalla, and Douglas (Barbara) Schalla both of West Bend; five grandchildren, Steven (Annette) Schalla of Baldwin, Michael Schalla of Minneapolis, MN, Emily Schalla of Lake Geneva, Jennifer Schalla of Oak Park, IL, and Gregory Schalla of West Bend; three great-grandchildren, Katelyn, Abigail, and Matthew Schalla; a sister-in-law, Carol Bruder-Hoekstra of West Bend, other relatives and many friends.
In addition to his parents, Gordon was preceded in death by an infant daughter, Lynda Schalla; a brother Robert Schalla; a sister-in-law, Joan (Bob) Wiley, and his parents-in-law, Wilfred and Thelma Courier.
As per Gordon's wishes there will be no funeral or memorial service. His wish is for just a moment spent on a happy memory.
The Schalla family would like to extend their heartfelt appreciation to the staff at Serenity Villa and to all of Gordon's friends who so faithfully visited him and shared in his long life and wonderful memories together.
The Myhrum Patten Miller & Kietzer Funeral Homes have been entrusted with Gordon's arrangements.