Obit: Jeffrey Steven Klotz, 61, of Kewaskum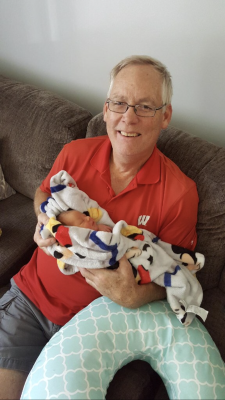 Oct. 8, 2018 – Kewaskum, WI – In loving memory of Jeffrey Steven Klotz who was called to be with the Lord and his older brother, Daniel, on Oct. 5, 2018 at age 61.
A beloved son, fiance, brother, father, grandfather, partner, uncle, boss, friend and coach, Jeff is remembered as one of the hardest working men God ever created. A teacher willing to teach, a father willing to parent, a friend willing to listen and a coach willing to mentor. Jeff is loved and missed by his immediate family, the Piggly Wiggly Family, and the community.
Jeff never met a golf course he wouldn't play, a mountain he wouldn't hike, or a person he wouldn't help. A masterful and hilarious storyteller. A good man, a great man, and a great loss.
Born on June 30th, 1957 in Waukesha, WI to loving parents. After his studies in Waukesha, he went on to become a grocer, a business owner, and a boss. It was in this role that he supported the community, through charitable giving. He found support and love in his fiancee Cathy, with whom he shared his life. He's also loved and supported by his three adult children and their mother, Carole Hohl, as well as the rest of his family: his mother, brother, sister, and father. As a golf coach, he gave of his time and talents. As a member of St. John's Church, he received the word of the Lord.
Jeff is survived by his parents Carol and Richard Thompson, Edward and Patricia Klotz, brother Michael Klotz and his daughter Marci and her family, sister Jeannie (Ken) Ristau and her children Nick and Livvi, and their families, and his niece Tracey Marek and her family. Fiancee Cathy Kunes and her children, Nathan (Tanya) Esser, Benjamin Esser, Ayla Kunes and her fiance Brandon, and Cathy's grandchildren Thea and Layla. His children, son Michael (Rhiannon) Klotz and their children Jordan, Jayden, and Mason, daughter Emily (Dan) Smith and their children Lily and Charlotte, and son Paul (Candace) Klotz and their children Trystan and Barrett. Also mourning are many other loving relatives and close friends. Preceded in death by his brother, Daniel Marek.
A Funeral Service for Jeff will be held at 6 p.m. on Thursday, Oct. 11, 2018 at St. John's Lutheran Church (809 S. 6th Ave., West Bend) with Pastor Jeff Dorth presiding. Visitation will be at the church on Thursday, Oct. 11 from 3 pm until time of service (6:00 pm).
The family would like to thank our friends, extended family, and the community for their love and support during this difficult time.
In lieu of flowers, please consider making a memorial contribution to St. John's Lutheran Church, West Bend Little League (809 S. 6th Ave., West Bend, WI 53095), West Bend East High School Sports Programs (1305 E. Decorah Rd., West Bend, WI 53095), or Living Word Lutheran High School Golf Program (2230 Living Word Ln., Jackson, WI 53037).
Click HERE for a tribute article about Jeff Klotz at WashingtonCountyInsider.com