Obit: Joanne C. McCaigue (nee Quinlan), 53, of Hartford – She was a people person who looked for the best in others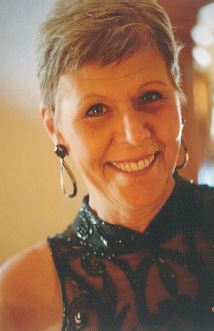 Dec. 14, 2016 – Hartford, WI – Joanne C. McCaigue (nee Quinlan) age 53 of Hartford passed away Monday, December 12, 2016 surrounded by her loving family.
Joanne was a Wife, Mother, Sister, Daughter, Nana, and Friend who touched many along the way, often opening her home to those in need. She was a people person who looked for the best in others. She enjoyed and always put her family first. She enjoyed music, lake days, laughter, motorcycling, children, storytelling, the Packer's and coffee.
Joanne is survived by her dear husband of 30 years, Lawrence, "her Lar-Bear," her absolutely loving daughters and their perfect spouses, Tricia L. "Baby Girl" (Terri) Williams and Sarah J. "Lil Bear" (John Jr.) Szyjewski; and she was special Nana to the lights of her life, Alexis (18), Alyvia (16), Anthony (14), Lewis (8), Lawrence (6), and recently gained another, Kaycee (20). Joanne was always grateful for her shared son and nephew, Josh. She is also survived by her baby sister, Julie (Rob) Zelinka and beloved siblings-in-law, Becky, Dan, Eileen, Mikey (Jackie), Joan (Rob) and Bobby. She is further survived by her dear mother-in-law, Jeanette McCaigue. Joanne had a special place in her heart for her 33 nieces and nephews, and several great nieces and nephews, 2 uncles, many cousins, and dear friends.
In Heaven, Joanne joins her parents, Sandra and Jim; father-in-law, Daniel; brother, Jim; sister, Jeanne; brother-in-law, Johnny; and her favorite uncle, David.
Joanne wishes all who loved her many many blessings and reminds them to always "Enjoy the moments!"
A Funeral Service and Celebration of Joanne's life will be held on Saturday, December 17, 2016 at 1:00PM at the Shimon Funeral Home (824 Union Street Hartford, WI 53027) with Rev. John Szyjewski Jr. officiating. Family will greet relatives and friends at the funeral home on Saturday from 10:00a.m.-12:45p.m.