Obit: John A. Brady, 95, of West Bend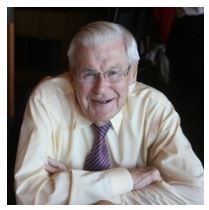 Sept. 25, 2018 – West Bend, WI – John A. Brady, 95, devoted husband of Patricia K. Brady and former president of the Wisconsin Gas Company, died on September 23, 2018 in West Bend WI.
John was born January 8, 1923, in Madison WI, the son of Albert Anthony Brady and Regina (Burke) Brady. John grew up in Madison, attending Marquette and St Patrick's Grade Schools, and Madison East High School.
John graduated from the University of Wisconsin with a degree in Chemical Engineering in 1945, and was a Lieutenant JG in the Navy 1942-1946. John married his beloved wife, Patricia Hope Knapp, on August 21, 1948 in Beloit WI.
John and Pat raised their children in Wauwatosa. John is survived by their six children, Mike (Karyn) of Atlanta GA,  Kathy (Jim) Burnett of New Holstein WI, Teresa Brady (Robert Koskovich) of Atlanta GA, Patrick (Justine) of Sun Prairie WI, Maureen Noteboom of Wausau WI, and Maggie (Jim) Leef of Pewaukee WI. He is also survived by 15 grandchildren, 9 great grandchildren, and his brother Thomas of El Segundo CA.
John was preceded in death by his parents, wife Pat, grandson Sammy Noteboom, and son-in-law Phil Noteboom of Wausau WI.
While at Madison East High School, John was sports editor of the student newspaper and co-captain of the basketball team. He was also a member of the University of Wisconsin basketball team, earning his freshman numerals in 1941 (the year Wisconsin won its only NCAA title) and scoring 1 point in varsity action. In 2015, John was honored during a UW basketball game at the Kohl Center for his 1 point career scoring record as well as his military service.
John worked in public utilities for his entire career; his first position was with the Wisconsin State Public Service Commission. He spent the last 30 years of his career with the Wisconsin Gas Company, retiring in 1987 as President. John was Chairman of Midwest Gas Association and a Director of the American Gas Association. He was also appointed to the Milwaukee County Environmental Affairs Committee in the mid 1960's.
John and his wife Pat had season tickets to the Wisconsin Badger football games for more than 60 years. They also enjoyed playing golf together throughout their married life, including winning matching Men's and Women's championships in an association tournament. John served as President of the Wisconsin State Senior Golf Association. In 2012, John shot his age (89) to win the 47thAnnual Brady Family Golf Tournament. John and Pat also curled together, and won numerous couples bonspiels.
After his retirement, John and Pat enjoyed living on Silver Lake in West Bend, rooting for the Wisconsin Badgers, taking Caribbean cruises following a local jazz band, Six Friars and a Monk, and traveling to Florida to get a headstart on the Midwest golf season. John eagerly looked forward to cocktail cruises on Silver Lake, a Badger or Packer victory, encountering a fellow Badger fan while traveling, the opportunity to be "the patriarch" at family gatherings, and those rare times when his putts were dropping.
Services will be held on Saturday, September 29, 2018 at St Frances Cabrini Catholic Church in West Bend, with visitation at 10:00 AM, and a Mass of Christian Burial at 11:30 AM. Badger red and white attire is welcome. Burial will be in Washington County Memorial Park immediately following the Mass. In lieu of flowers, donations to Cedar Community Foundation, 113 Cedar Ridge Dr. West Bend WI 53095, or the charity of your choice, would be appreciated. Arrangements are being handled by the Schmidt Funeral Home, West Bend. Online guestbook and condolences are available at www.schmidtfuneralhome.com.
John's family would like to thank all the residents and staff at Cedar Community, and particularly both Carolyn Lohmiller and Ann Klumb.