Obit: Michael (Mike) Min Woo Tews, 28, of Cedarburg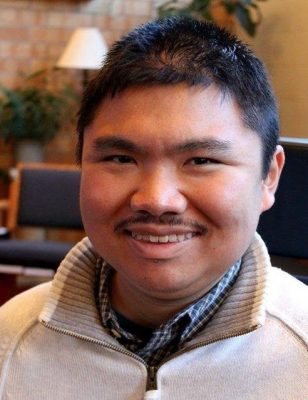 Nov. 28, 2017 – Cedarburg, WI – Michael (Mike) Min Woo Tews passed away on November 25, 2017 at the age of 28 at Froedtert, Milwaukee, Wisconsin. Mike is the son of Roger and Lynne (Goese) Tews of Cedarburg, Wisconsin.
He was born on February 5, 1989 in Seoul, Korea. He arrived from Seoul Korea on August 9, 1989 to become part of the Tews' Family and was later adopted by his parents.
Mike graduated from Kettle Moraine Lutheran High School in Jackson, WI in 2007.
He earned a Bachelor's Degree in Journalism at UW-Madison in 2012. We would like to thank his fraternity Theta Delta Chi for their support and friendship to Mike and for building a ramp so he could attend the functions at the house.
Mike is survived by his parents; siblings: Michelle (Andrew) Korolewski and Justin Tews; two nephews: Cameron and Sawyer from West Bend, WI and special friend, Samantha Raddle. Mike was preceded in death by his grandparents Harry and Selma Tews, David and Thelma Goese; cousins: Jon Vertz and Nathan Diener.
Mike also lost many great friends who suffered from Muscular Dystrophy as he did. He served as the Local MDA Goodwill Ambassador during 2005 & 2006.
A special quote by Mike: "If not for MDA, I would not have met my "best" friends, many who have gone before me."
These dear friends are mourning the loss of Mike and we thank these friends and caregivers from the bottom of our hearts for the love and kindness that they have extended to Mike.
He will be with you at camp next year in spirit.
Mike loved sports which expressed itself in his pursuit of a journalism degree and his subsequent sports writing. He did a Sports Internship at CBS 58 in 2009, wrote for The Daily Cardinal (UW-Madison), Campus Pressbox and other online sports magazines.
Mike's family would like to thank the firefighters from the Jackson and West Bend Fire Departments for all there help.
A memorial service will be held on Saturday, December 2, 2017 – 3:00 PM at David Star Ev. Lutheran Church 2740 David's Star Drive Jackson, WI.
Family will receive friends at the church on Sat. from 12:30 – 2:45 PM.
In lieu of flowers the family requests that donations be made to the Muscular Dystrophy Association or David's Star Lutheran Church.