Obit: Norrine Charlotte Devenport, 83, of West Bend. Norrine was active in ACS of Washington Co.'s annual fashion show & luncheon, the Devenport Family Stage, and was a major supporter of MOWA.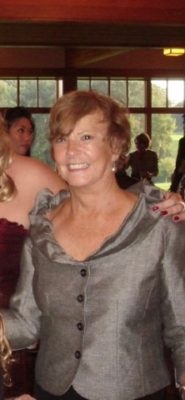 March 8, 2017 – West Bend, WI – Norrine Charlotte Devenport (nee Blaha) age 83, passed away peacefully in her home surrounded by her loving family on March 4, 2017.  She was born Feb. 11, 1934 to John and Elsie (nee Christiansen) Blaha in Neenah where she was raised until the family moved to Kaukauna.
Norrine graduated from Kaukauna High School in 1952 where she excelled in many sports.  She went on to attend the University of Wisconsin where she met her husband Douglas.  Norrine was a member of the Alpha Xi Delta Sorority.
Norrine married Douglas on January 15, 1956 at the First Methodist Church of Corinth Mississippi.  After living in Madison for a short period they moved to West Bend where Doug was employed by Level Valley Dairy and eventually retired as its CEO.
Norrine was a longtime volunteer member of St. Josephs Hospital Women's Auxiliary where she eventually became the buyer for the Hospital Gift Shop, a Cub Scout Den Mother, CLYC Junior Advisor and volunteered her time to many other causes throughout her lifetime. Norrine was a long time member of the Fifth Avenue United Methodist Church and a member of the West Bend Country Club since 1956. Norrine was also a gifted interior decorator.
Norrine and her husband believed in giving back to the community and became local philanthropists during their lifetime.  Norrine was the driving force in many of these endeavors, fully underwriting the American Cancer Society of Washington County's annual fashion show and luncheon for 10 consecutive years, contributing the landscape /sculpture "Ajuga Daydream" to the community at Riverside Park, the "Devenport Family Stage" at the Washington County Fairgrounds, major contributors to West Bend Gallery of Fine Arts and Museum of Wisconsin Art among many other local venues and causes.
Norrine loved to dance, swim, ski, dive, play tennis, decorate and create wonderfully colorful oil paintings. She held numerous awards in singles, doubles, mixed doubles tennis in Washington County, PVTC events and tournaments as well as USTA league tennis.
Most of all Norrine loved her family- seldom missing an event of her children, grandchildren or great grandchildren no matter what she had to do to be there.  Family was always first.
Norrine is survived by three children, Craig (Candy Koehn), Bradley (Donna Smith) of West Bend, Jamie (Robert) Mollwitz of Dublin Ohio; her 9 grandchildren: Clair (Danny) Mills, Kristin (Torey) Olstad, Brian (Kaila Muth) Devenport, Patrick Salter, Robert (Erin Shinners) Devenport and David, Laura, Sarah and Joshua Devenport; and 8 great grandchildren, Lily, Charlotte, Caden, Avery, Lane, Pierce, Henry and Olivia with one more on the way. She is further survived by her sister Vivian (Dan) Sachs of New London and sister in law Elaine (Jim) Leverich of Pampa TX as well as many nieces, nephews and friends.
She was preceded in death by her husband, her parents, her son John and her sister Arlette Meinert
A Funeral Service will be held at on Tuesday March 14, 2017 at 12:00 PM at the Phillip Funeral Home Chapel with Pastor Jeff Hesse officiating. Visitation will be at the funeral home from 10:00 AM until the time of the service.
Memorials are appreciated to the Alzheimer's Association in lieu of flowers.